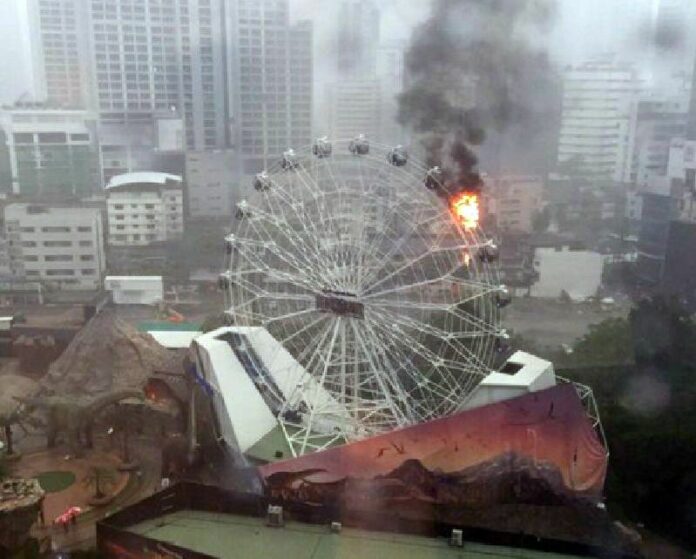 BANGKOK — The ferris wheel at the recently opened Dinosaur Planet theme park was ordered yesterday to shut down for 15 days after a fire broke out on the ride.
The theme park, a tourist attraction anchoring a sprawling commercial development, was open normally Monday, two days after fire consumed one of the cabins on the five-story ferris wheel. Municipal authorities said they still have not concluded what caused the fire, which caused no injuries, but suspect it was caused by a short circuit.
"We are inspecting the scene together with staff from the amusement park," Kamol Nawasirisomboon, a local Khlong Toei District official, said Monday morning. "We will wait for the results from the police's Office of Forensic Science."
The ferris wheel burst into flame spectacularly on Saturday soon after a powerful thunderstorm hit the capital city. The park issued a statement after the incident saying it had followed protocol and shut down the ride before the storm hit, so there were no riders at the time.
Vinit Lertratanachai, a representative of the theme park operator, said they believe the fire was started by a short circuit in a cabin which had its door removed earlier for repairs.
The safety inspection will continue for 15 days, and local officials said the ride could resume operation once its safety is guaranteed.
Part of the The Mall Group's Emsphere development, the 500 million baht theme park was a joint project by Freshair Festival, Workpoint Entertainment, and Rightman, according to its website.
Patrons enter Bangkok's Dinosaur Planet amusement park Sunday, one day after a fire broke out on its giant ferris wheel.
Related stories:
Fire Engulfs 'Dinosaur Planet' Ferris Wheel Cabin
Dinosaurs Come to Life at Bangkok's Own Jurassic Park
Uninsured 'Fun Fair' Shut Down in Korat