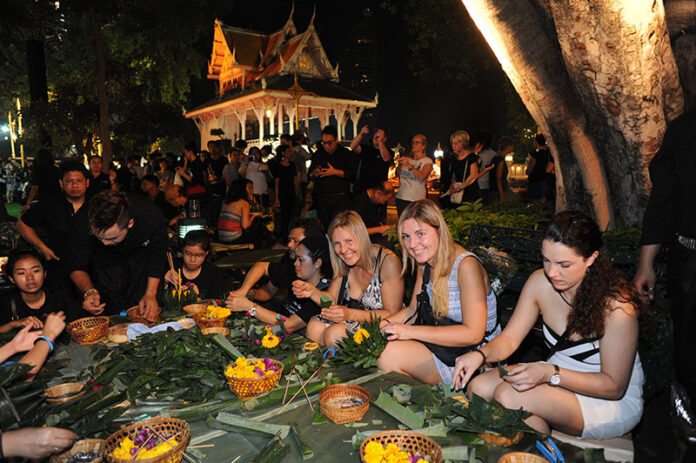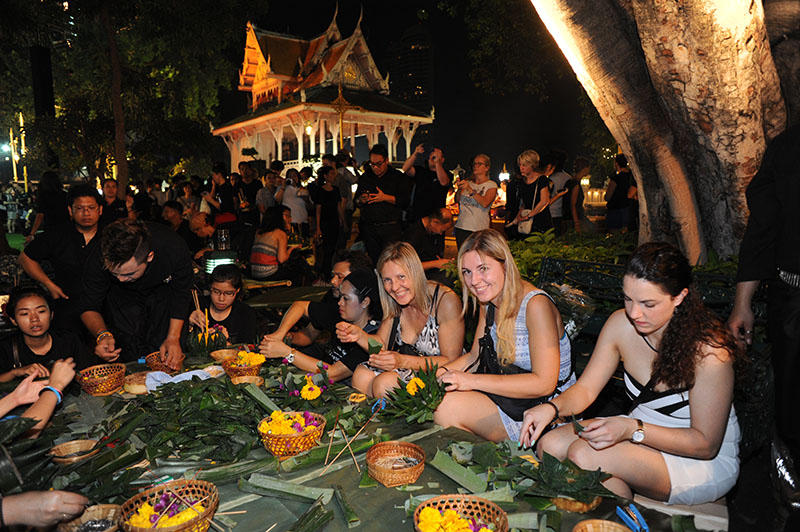 BANGKOK — "Life goes on" was the key message Thailand's top tourism official conveyed Wednesday night at a public forum on how the country's tourism is weathering the death of its longest-reigning monarch.
Playing down the impact of His Majesty the Late King's death on one of the kingdom's biggest money-makers, Tourism Minister Kobkarn Wattanavrangkul recounted her visit to a luxury hotel bar where she saw scenes of leisure returning to normal a month after the government declared a ban on public entertainment, forcing the once free-wheeling capital to go quiet.
"Life goes on," the minister said at the panel hosted by the Foreign Correspondent's Club of Thailand. "If you've been to Bamboo Bar at Mandarin Oriental, you will see there's still jazz. People ask me, can I drink wine? Yes you can! There was music everywhere."
Read: What We Can Expect For King Bhumibol's Funeral Rites (Updated)
Despite dire reports from the private sector, Kobkarn said things are looking up. Festivities are making a comeback just before the year's end with sport tournaments, jazz festivals and New Year's Eve parties.
"There will be parties. We are working on big events," Kobkarn said when asked what to expect Dec. 31. "Certainly something is coming up. What it will look like we don't know yet. We want to make it memorable."
Apart from a New Year's Eve party, authorities are planning more events around the nation.
Bangkok will see a festive end to the year, she said.
"I talked to owners of Siam Paragon and CentralWorld. There will be Christmas trees," Kobkarn said. "It will be the biggest place for selfie."
Grim Numbers
A bleak counterpoint to Kobkarn's exuberant assertions are the numbers coming in from the tourism sector.
After King Bhumibol died on Oct. 13 at 88, the military government announced a year of national mourning and a month-long ban on public entertainment. Concerts were canceled, bars closed, advertisements pulled, and musicians were put out of work.
Tourism, which by one estimate generated 20.8 percent of the 2015 GDP, took a direct hit from the shutdown. Sa-nga Ruangwattanakul, adviser and former head of the Khaosan Road Business Association, said establishments in the famous backpacker district lost up to 70 percent of revenues last month.
"We had zero revenue in entertainment," he said at the panel discussion.
There's also been a drop in European arrivals, he said, citing factors such as economic crises in the West and wariness of political trouble in Thailand.
However, like Kobkarn, Sa-gna expects the situation to improve from November onward. For instance, live bands returned to bars this week, and the tourists are returning, he said.
"We expect to see recovery in November," said Sa-nga, who's also CEO of a hotel and bar group on Khaosan Road. "We expect that the total annual revenue will be 20 percent less than last year."
But whereas the foreign tourist market has improved somewhat, the president of a domestic travel guild said tourism within the kingdom is still in a deep downturn.
"Since His Majesty the King passed away, tourism has slumped. People have postponed their trips or canceled them altogether," Phuriwat Limthavornrat said Thursday. "For October, [domestic] tourism revenues are almost entirely gone. Almost 100 percent."
He continued, "Thai people like to have fun. Since they can't party while they travel, they decide not to go out at all."
Phuriwat said he thought the situation would improve once the entertainment ban was lifted, but it turned out people aren't in the mood.
"We predicted that after 30 days, customers would start traveling again, because things would be relaxed," said Phuriwat, whose tour company saw 15 cancellations throughout October. "But people still feel that it's not appropriate yet."
He said domestic tourism will have to wait at least until January to see any meaningful recovery.
Related stories:
Public Celebrations and Festivals May Resume Nov. 14
Full Moon Party Returns With Homage to Late King
Thammasat Graduation Bans 'Congratulations' in Favor of Condolences