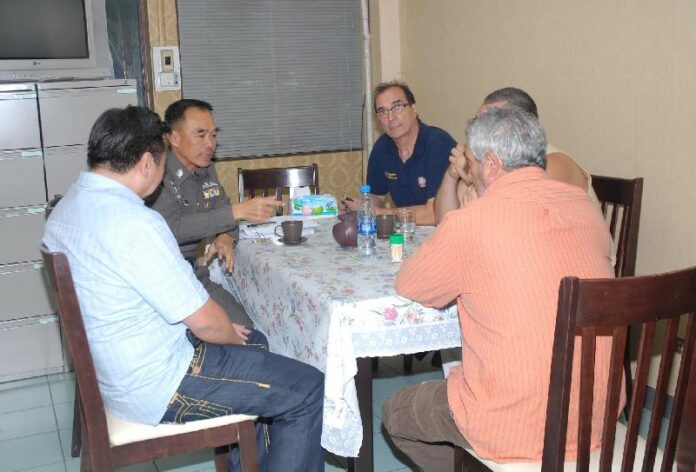 (23 August) Following complaints from an Italian expat who claimed he had been kidnapped by a group of police officers in Bangkok, the police have arrested 2 officers in connection with the crime.
Previously, Mr. Danilo Devito, 40, told police he had been stopped by 2 Thai nationals and 1 ?central Asian? individual dressed in police uniform as he was using an ATM in Soi Nana, an area traversed by many foreigners in Bangkok.
According to Mr. Devito, the trio told him he was under arrest because he was using a fake debit card. He was then escorted to meet with 2 other senior ranking police officers who coerced him to pay 2 million baht in exchange with a release without any charges.
Mr. Devito said he negotiated the payment to only 1 million baht, and he was later locked up in Sawasdee Hotel at Soi Sukhumwit 57.
He said he had a chance to escape on 20 August, when the kidnappers let him contact his relatives in Italy to transfer the ransom money, which he instead used the opportunity to tell them in Italian that he had been kidnapped and urged them to contact the Italian Embassy in Bangkok.
The Metropolitan Police, after they had been reported by the Embassy, eventually rescued Mr. Devito. The police said they were looking for 4 police officers and 1 Uzbekistani man.
Today, Pol. Maj.Gen. Parinya Chansuriya, Deputy Commander of the Metropolitan Police, told reporters that 2 of the suspects have been arrested, and the police are looking for 3 other suspects, presumed to still remain in Thailand.
According to Pol.Maj.Gen. Parinya, Pol.Sen.Sgt.Maj.Sathit Chansoam and Pol.Sgt.Maj.Puripas Chuenjampa, both from Thong Lo Police Station, were the arrested suspects. However, he said, Pol.Lt. Wirat Indrayod and Pol.Lt.Akranet Muthawan, both from Lumpini Police Station, and Mr. Muhiddin Sharipov are still in hiding.
The deputy commander said that he had ordered the 4 police officers to be dismissed, and charged all suspects with robbery and kidnapping for ransom. The 2 arrested policemen would be detained at the Criminal Court prison and the police will oppose their request for a release on bail, he said.