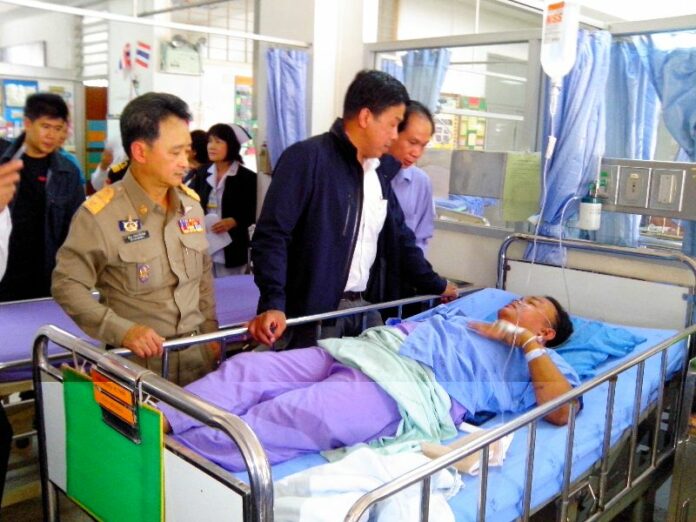 (25 March) Faulty brakes are said to be the cause the charted bus accident in Tak province which killed more than 30 people.
The bus was traveling with three other vehicles that were hired by the regional authority of Tha Sai Luat subdistrict in the province to transport 30 officials and 160 local residents to a field trip in Laos, police said.
According to witnesses, when the convoy reached a descending slop of Route 105 in Mae Tho subdistrict at around 20.30 last night, the fourth bus, with around 50 passengers onboard, lost control and slammed into a roadside barrier before plunging down into 100-metres deep gorge below.
More than 20 police force units and rescue teams later arrived at the site of the accident, where they struggled to retrieve the dead and the injured from the bus wreckage amid the darkness and difficult terrain.
At least 30 people lost their lives in the accident, medical workers at Somdet Prachao Taksin Hospital said, adding that more of the dead were women.
Mr. Thammanoon Khatbho, a 41-year old resident of Bangkok and driver of the doomed bus, told police he regularly maintained and repaired the bus, and claimed to have good knowledge of the area, as he frequently traveled in the province.
When the bus started down the 4-km long slope, Mr. Thammanoon said, he attempted to slow the bus down, but the brakes did not respond. The driver reportedly intended to collide with a large truck in front of him to stop the vehicle, to no avail, causing the bus to crash into the barrier and fall into the gorge.
It is not immediately clear whether the police have pressed any charges against Mr. Thammanoon, but officers stress that the incident is currently under investigation.
Thailand is known for its notoriously poor safety record in public transportation, especially concerning inter-provincial travels which involve double-deck buses and public vans.
The accident also occurred less than a month since the bus crash in Prachinburi province which killed 15 victims, most of them young schoolchildren.
In the February accident, the driver was found to lack the proper license for operating a public or chartered vehicle.
Related Story: 'Unlicensed' School Bus Driver Slams Into Truck, Killing 15