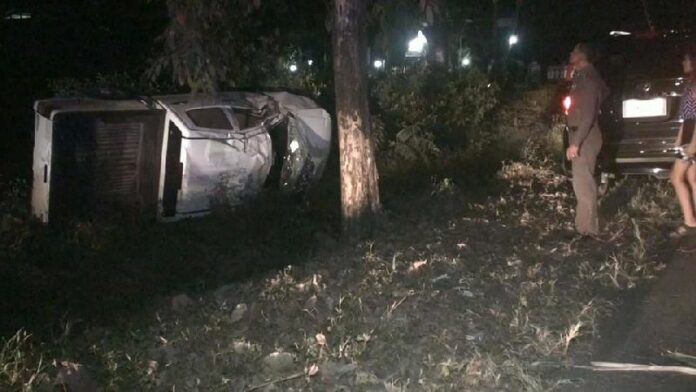 KAMPHAENG PHET – A police truck hit and killed a 45-year-old woman crossing the street in Kamphaeng Phet province on New Year's Day, police say.
The driver, Pol.Col. Chayinthorn Sukonthorn, said he was rushing back from the residence of a senior commander to his police station in neighbouring Phichit province to deal with a drug-related incident when he saw Pramual Seehawat, 45, crossing the street.
"I was very shocked, because I saw her carrying something, which at first I thought was her baby," explained Pol Col. Chayinthorn, who is the director of Wachirabaramee station in Phichit.
"So I suddenly turned the steering wheel to dodge her, but then I saw a big tree on the side of the road, which forced me to turn the wheel again. Then the truck lost control and flipped over."
Pol. Col. Chayinthorn's police truck was found flipped on its side, 20 metres from where Pramual's body was lying. The roof was damaged and the windshield shattered.
The officer confirmed that he is willing to compensate Pramual's family for their loss.
Police say they are investigating the incident.