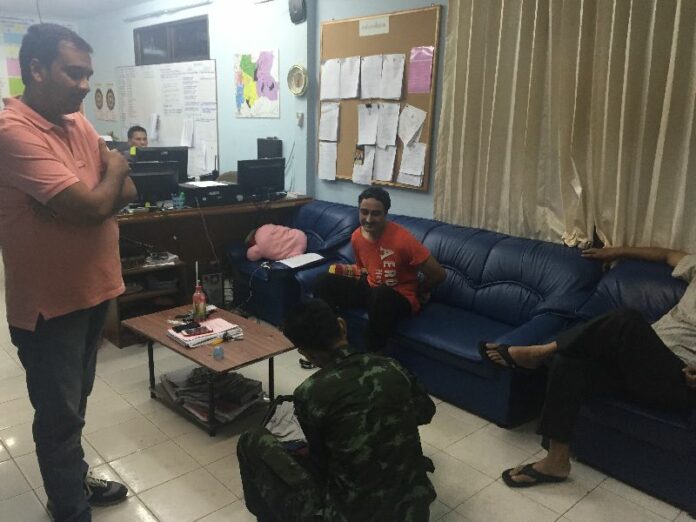 CHONBURI — Police in Chonburi province have arrested an Indian national who was convicted in India for a bombing that killed a top politician and seventeen others in 1995.
The suspect was arrested during a police raid of a house in Banglamung district at around 7.30 pm yesterday, said deputy commander of the Chonburi police Pol.Maj.Gen. Nitipong Niamnoi.
Thai police say the suspect possessed a Pakistani passport with the name "Gurmeet Singh," but according to a report in the India-based Hindustan Times, the passport is fake and the suspect's real name is Jagtar Singh.

Thai police escort Singh to a court in Chonburi province on 6 Jan 2014.
Singh and two others were found guilty by an Indian court of masterminding a bombing in Punjab province in 1995 that killed Chief Minister of Punjab Beant Singh and seventeen others. In 2004, Singh and several other inmates escaped from a high security prison by digging a tunnel.
"The Indian authorities eventually discovered that the suspect was hiding in that house [in Chonburi province], so we made the arrest," Pol.Maj.Gen. Nitipong told reporters yesterday. "We will contact officials at the Embassy of India so that they can pick up the suspect and prosecute him."
According to the Hindustan Times, Punjab police discovered that Singh was living in Thailand under a fake identity last June. Punjab authorities sent a police team to Thailand to hunt him down in November, but by that time Singh had already gone underground.
The owner of the house where Singh was found, a Pakistani named Ali Alat, told Thai police he did not personally know the suspect.
"The homeowner told us that Singh phoned him on 1 January and asked to stay at his place for several days because his passport had expired, and offered to pay him 30,000 for the accommodation," said Pol.Maj.Gen. Nitipong. "Ali said he agreed to let him stay because Singh is a fellow Pakistani."
Police have charged Ali with providing shelter to an illegal alien and detained him for further interrogation.