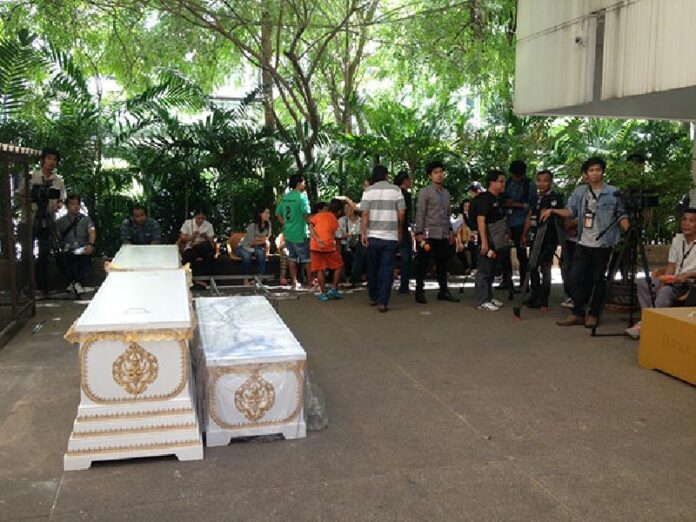 BANGKOK — The United Kingdom this evening confirmed one of its citizens was killed in the bomb attack that left at least 20 dead in Bangkok last night.
In a statement released by the UK Foreign Office, its top diplomat condemned the attack and said the United Kingdom has offered to help investigate the attack which killed one of its citizens
"I can confirm that one British national, a resident of Hong Kong, lost her life in the attack," Philip Hammond, the UK Foreign Secretary, said in a statement. "British Embassy staff in Thailand are assisting her family at this very difficult time."
He added, "The loss of life and injury in Bangkok is horrific and I condemn this callous act of violence against completely innocent and unsuspecting members of the public."
The statement from the Foreign Office did not name the deceased.
The official fatality report lists two residents from Hong Kong killed in the blast; Pang Wan Chee, known as Arcadia, and Chan Wing Yan, called Vivian. A report in Taiwanese media indicates they were 24 and 19, respectively, and traveling together.
British Prime Minister David Cameron also expressed his condolences.
"Deeply saddened to hear a British national was killed in horrific Bangkok bombing. My thoughts are with her family & all those affected," he tweeted.
The bomb went off at Erawan Shrine, a place of worship popular with Thais and foreign tourists alike, in downtown Bangkok yesterday evening.
According to data compiled by the Thai authorities, 20 people have been killed in the attack.
No group has claimed responsibility for the attack, and no arrest has been made so far, though police have released a CCTV footage of a person they suspect of being the bomber.
To reach us about this article or another matter, please contact us by e-mail at: [email protected].