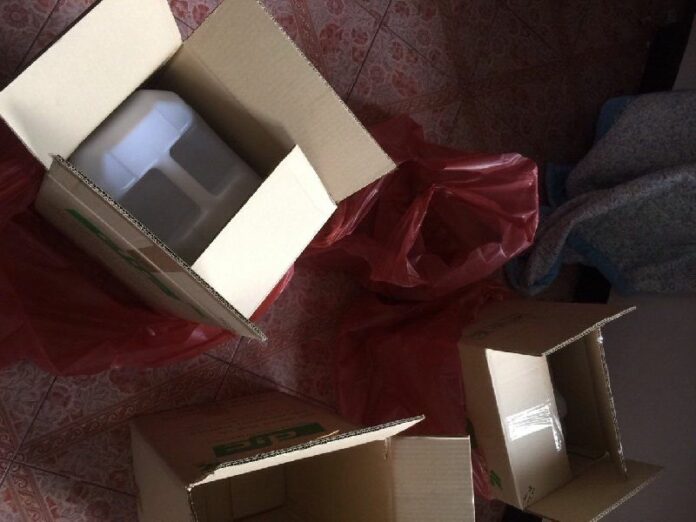 BANGKOK — Seven gallons of "suspicious materials" police confiscated from a house in a Bangkok suburb yesterday were drug precursors and not bomb components.
Following a lead, investigators raided the residence in Soi Ratcha Uthit 34, near to where an apparent bomb-making operation was discovered Saturday, where they found seven gallon containers (26.5 liters) of chemicals they initially suspected to be for building bombs.
But government spokesman Col. Winthai Suvaree said today in his televised noon update on the investigation that the materials were in fact chemicals for cooking drugs. Authorities later confirmed the materials were used for preparing ketamine.
"Nevertheless, security officers will continue to investigate the circumstances," Winthai said.
---
Bangkok Shrine Bombing: Those Who Died
---
Investigators said they raided the residence after receiving a report it was connected to the network suspected of being behind the bombing in central Bangkok that killed 20 people on 17 Aug.
After saying yesterday the house had been rented by Wanna Suansan, a Muslim Thai woman among nine suspects sought in connection with the 17 Aug. bombing, Police Lt. Gen. Prawuth Thawornsiri today that he was mistaken. Wanna had been reportedly been seen visiting the residence, he said.
The house, located in the capital's Min Buri district, is not from from the Maimuna Garden Home where police said they found extensive bomb components and chemicals in a room rented by Wanna, her Turkish husband Emrah Davutoglu and an unidentified man. Warrants have been issued for the arrest of all three on a charge of possessing "war materials."
Wanna and her husband left the country on 1 July, six weeks prior to the bombing. Wanna has reportedly denied any involvement in the plot and said she would return to Thailand to clear her name. She and Davutoglu are currently in Turkey.
UPDATE: This story has been updated to reflect the police spokesman's correction of his statement that Wanna Suansan rented the home raided.
Related stories:
Warrant No. 9 Names Chinese National
Turkey Responds to Alleged Bombing Links as 3rd Arrest Reported
Mounting Evidence Links Bombing to Turks, Uighurs
Tests to Confirm Whether Man is 'Bangkok Bomber'
Warrants Out for Thai Woman, Foreign Man
Police Search for More Suspects After Arrest
Floundering Bomb Investigation Deepens Doubts About Competency
No Longer Whole, a Family Buries its Dead and Waits for Answers
Bangkok Bomber May Have Fled Thailand: Police
Man Dropped Bag into Water Night Before Sathorn Pier Blast
Seen Often on Sathorn 10, Suspect Thought to Use Fake Turkish Passport
Leaked Police Report Tracks Lead Suspect Before, After Bombing
1M Baht Bounty for Bangkok Bomb Suspect
Bangkok Shrine Bombing: Those Who Died
Despite Lack of Evidence, Thai Media Points Blame at Uighurs
Tourists Narrowly Escape Second Bangkok Bombing in 24 Hours
Bangkok Shrine Bombing: Police Hunt Backpack Man
Tourists Among 19 Killed by Bomb at Bangkok's Erawan Shrine
To reach us about this article or another matter, please contact us by e-mail at: [email protected].