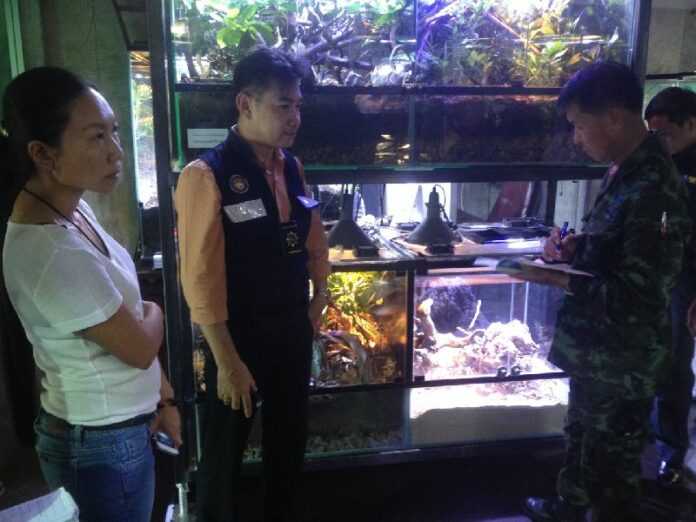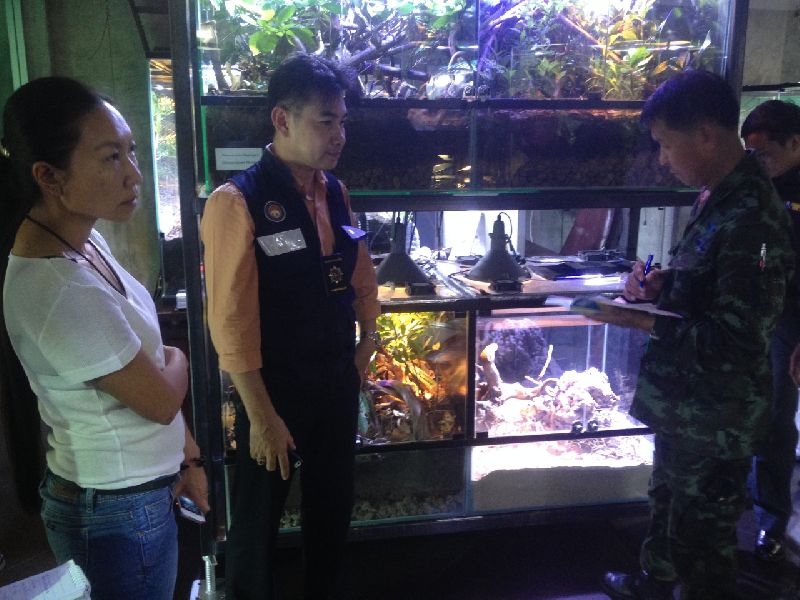 PATTAYA — Videos of leopards prowling around inside a Pattaya office building led police to raid the building yesterday.
A dozen officials from the police, military and local agencies raided the Wandee Group office in South Pattaya at around 5pm on Tuesday to find the leopards absent – their owner said they were visiting a Bangkok vet – but a variety of wildlife at the building including snakes, iguana and coral.
A local official said authorities learned about the leopards after residents posted videos of the wild cats walking inside the building on social media.
"They were afraid that if the animals got loose, they may harm people," said Pongthasith Pijanan of the Banglamung District Office.
Company owner Nittaya Wongsin told police the leopards were sick, so she had sent them to an animal hospital in Bangkok for treatment. However officers discovered large glass terrariums filled with other wildlife.
"We are checking whether the owner has a permit," Lt. Capt. Putthipong Chuenchom, the police officer in charge of the investigation, said by telephone today.
Nittaya told reporters Tuesday she had applied for permits to own these wild animals, including the two leopards. She could not be reached for comment today. The animals have been sent to the Department of Forestry for care.
Putthipong said police have yet to charge Nittaya with anything.
"We cannot charge people carelessly," the officer said. "We have to inspect the matter carefully first."
Illegal possession of restricted wildlife animals, such as leopards, is punishable by to three years in prison and a 40,000 baht fine.
To reach us about this article or another matter, please contact us by e-mail at: [email protected].
Follow Khaosod English on
and
Twitter
for news, politics and more from Thailand.