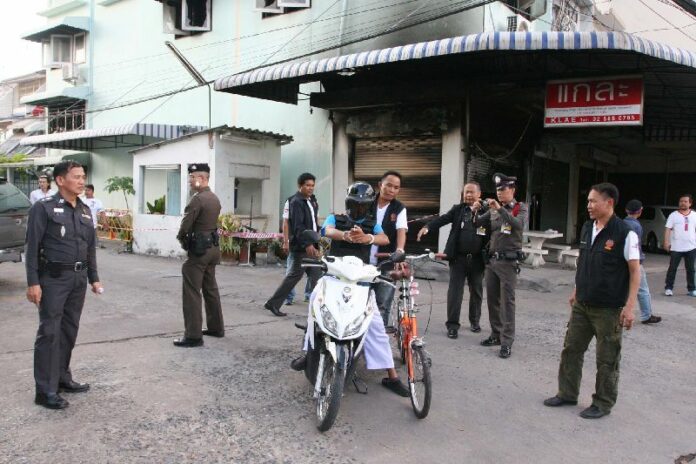 BANGKOK — Police have arrested a man they believe to be a serial arsonist who set fire to a tailor shop in the Bang Sue district Friday, killing a woman sleeping inside.
Yutthana Onsuwan, 26, was arrested Saturday at the Bang Sue train station and has been charged with theft and arson for a series of fires in which he allegedly torched the place after stealing valuables. Most recent such arson-burglary was the tailor shop on Soi Prachachuen 5, according to police Lt. Gen. Sanit Mahatavorn.
Sanit told police reviewed CCTV footage and saw a man park a motorbike at the shop's side door before using a wrench to break in. Some time later, he exited with a bicycle towed it away behind his motorbike, and then the fire broke out.
Police said Yutthana confessed to sneaking into the shophouse, to steal some cash and the bicycle. He said he did not know there were five people sleeping upstairs at the time because he saw the door was locked from the outside.
Four people were able to exit the building, but Poranee Summahawong, the 30-year-old daughter of the shop's owner, died in the fire.
Investigators said a review of similar fires in recent weeks suggested it was the same man who set fire Nov. 9 and Nov. 14 to two apartments, the first on Soi Prachachuen 10 and the second on Soi Prachachuen 2.
Yutthana was released after a four-year prison sentence in Nakhon Ratchasima province, after which police said he stole a motorcycle and came to Bangkok.
Related news:
Prachachuen Shop Fire Kills Owner's Daughter