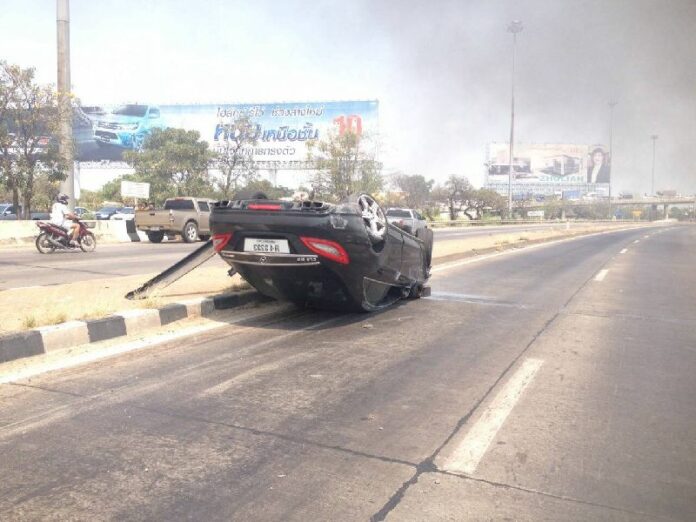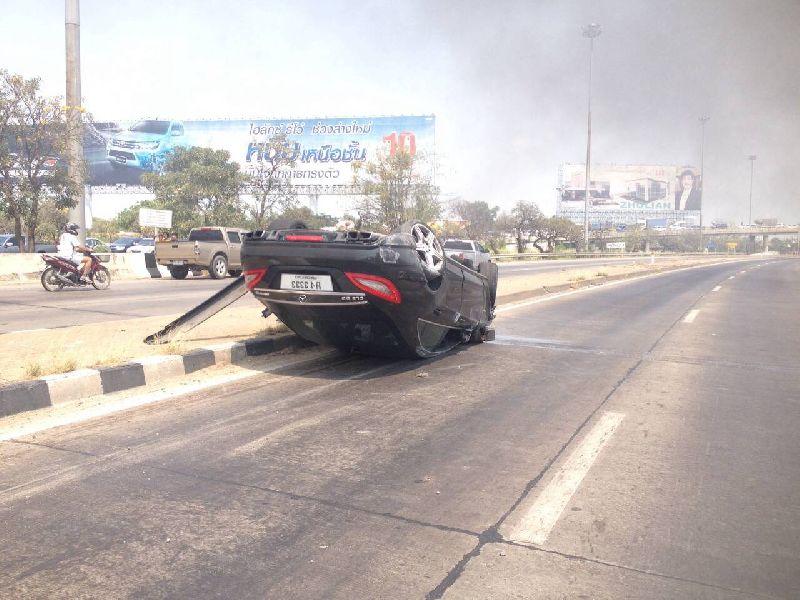 AYUTTHAYA — Police have yet to press any charges against the owner of a luxury car dealership who slammed his Mercedes Benz into another car on a highway, killing the two motorists inside.
Police say they are still gathering evidence before they can file any charges against Jenphop Viraporn, 36, who they point out is still hospitalized for what was described in reports as slight injuries.
The Sunday crash was captured by a third vehicle's dashcam, footage of which has been widely shared online.

"We are still waiting for the owner of the clip that has been shared online to testify, but that person has not shown up yet," Col. Pongpat Suksawasdi, commander of the Phra-Inracha Police Station, said Wednesday.
Police are also questioning witnesses in the area, including those who rendered aid to the two motorists stuck in the car that Jenphop allegedly slammed into at a high speed.
The two motorists, both graduate students at Bangkok's Mahachulalongkornrajavidyalaya University, died when flames engulfed their Ford Fiesta.

Media reports said the collision caused the Mercedes-Benz to flip and caused "slight injuries" to Jenphop. He is currently being treated at Samitivej Hospital in Bangkok, Pongpat said.
Jenphop is listed as the owner and manager of Luxotic Auto. In a 2013 interview with Komchadluek news, Jenphop said his company provides luxury sports cars, and was inspired by his father who owns a similar business called Lenso Group.
Because of Jenphop's social status and the lack of follow-up to the crash by mainstream media, many on social media expressed fear the Sunday collision would become another example of uneven justice.
"Will this issue go quiet like other previous cases involving rich kids?" wrote the admin of CSI LA, a popular Facebook page that has launched numerous online campaigns on controversial issues.
But Pongpat, the commander of the police station in charge of the investigation, insisted the police force will be impartial.
"Please rest assured about this, because my supervisor has also ordered us to proceed in this matter as soon as possible and in accordance with legal procedures," the police colonel said.
Additional reporting Chayanit Itthipongmaetee

Related stories:
Millionaire's Son Gets 2 Years for 'Mercedes' Murder
Actress Charged With Deadly Car Crash Says Victim's Ghost Forgave Her
'Praewa' Ordered to Pay 30 Million Baht to Van Crash Victims
Deadly Car Crash Driver Escapes Jail Term
Teeranai Charuvastra can be reached at [email protected] and @Teeranai_C.