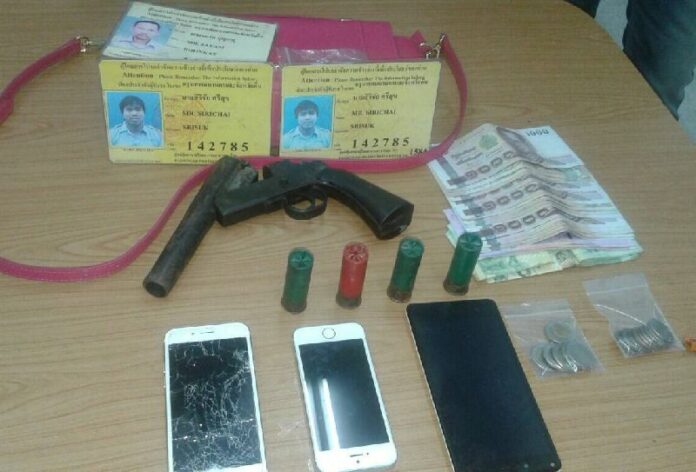 BANGKOK — Police arrested a taxi driver early this morning suspected of robbing two Chinese tourists at gunpoint in a northeastern suburb of the capital.
Sirichai Srisuk, 29, was arrested at around 1:30am early on Wednesday in Pathum Thani, Tourist Police announced, at which point most of the tourists' stolen items were recovered.
Sirichai is accused of robbing the two tourists with a handgun at about 9:30pm on Monday after picking them up at BTS Mo Chit and driving them to Pathum Thani. After robbing them, he left them stranded on a road there, according to the police news release.
---
Chinese Tourists Say Taxi Robbed Them at Gunpoint
---
The two tourists, Guo Huan and Cheng Xie Yi,, sought help from residents in the area, who later brought them to a police station.
Srichai reportedly took the tourists' bags, three mobile phones, 23,000 baht and travel documents. All but the passports have been recovered, the report said.
Sirichai had a prior conviction on drug-related charges for which he spent two years behind bars before being released in early 2015, it said.
Related stories:
Cab Driver Who Allegedly Robbed Chinese Tourist Arrested
Taxi Driver Busted for Stealing Tourists' Bags at BKK Airport
Tourists Robbed By Tuk-Tuk Driver and Motorcyclist Duo
Pattaya Man Reportedly Shot For Chasing Tourist-Robbing Teenagers
Teeranai Charuvastra can be reached at [email protected] and @Teeranai_C.