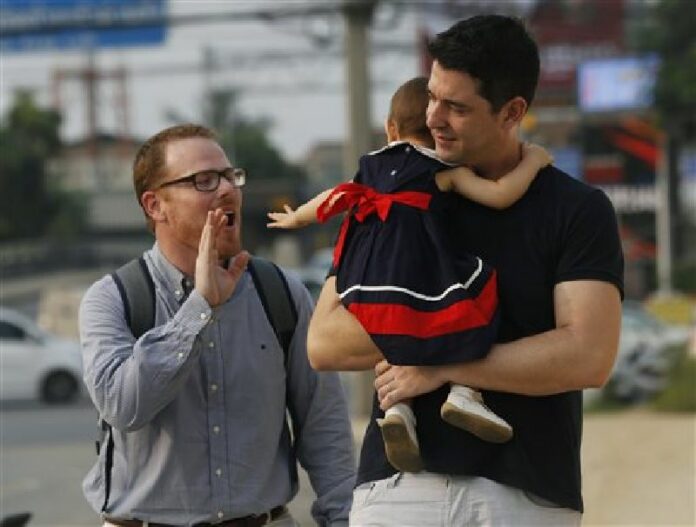 BANGKOK — An American-Spanish same-sex couple opened a high-profile custody battle on Wednesday for a baby girl born to a surrogate mother, who decided she wanted to keep the child when she found out they were gay.
The case is complicated by the fact that Thai law does not recognize same-sex marriages and also by a new law that bans commercial surrogacy, which took effect after baby Carmen's birth.
The couple — American Gordon Lake and Spaniard Manuel Santos, both 41 — have been stuck in Thailand since launching their legal battle after Carmen was born in January 2015.
"It's the day we've been waiting for — for a long, long time. Today is one of the most important days of our lives," Lake said outside Bangkok's Juvenile and Family Court. "The court should give us custody of Carmen because it's the right thing to do."
Lake is the biological father of baby Carmen, who is now 14 months old, while the egg came from an anonymous donor, not the Thai surrogate, Patidta Kusolsang.
When Carmen was born, Patidta handed over the baby to Lake and Santos, who left the hospital with the infant. But they say Patidta then changed her mind and refused to sign the documents to allow Carmen to get a passport so they could leave Thailand.
Lake and Santos were told she had thought they were an "ordinary family and that she worried for Carmen's upbringing," according to a message Lake posted on a crowd funding site that has raised USD$36,000 (1.25 million baht) to help cover the costs of the trial and staying in Thailand.
Patidta's lawyer declined to speak to reporters at the court Wednesday. Testimony from both sides is scheduled to end March 31.
Gordon Lake talks to reporters before trail at the Central Juvenile and Family Court in Bangkok, Thailand, Wednesday, March 23, 2016. Photo: Sakchai Lalit / Associated Press
Lake has said he doesn't know why the surrogate says she didn't know he was gay. He says he was clear about that from the start with their surrogacy agency, called New Life, which has branches in several countries.
The Bangkok-based New Life office has closed since commercial surrogacy was outlawed in Thailand in July 2015, following several high-profile scandals. There was a grace period provided for parents whose babies were already on the way, and Lake says he hopes the judge is sympathetic to them.
"It was always known it was a surrogacy agreement. We're the intended parents. We're the people that wanted to have a child," said Lake, who is originally from New Jersey. "We just want to go home and we just want to be a family. A normal boring family."
Carmen has lived with the couple since her birth, and they carried her into the court on Wednesday.
The couple's lawyer, Rachapol Sirikulchit, says he is confident they will be awarded custody and take the baby with them to Spain, where they live.
"Baby Carmen has the right to be with her biological father, who supports her financially and has cared for her since she was born," Rachapol said. "The priority is to consider the benefit for children and that they have the right to live with their biological parent."
Story: Ying Panyapon / Associated Press
Related stories:
Baby Carmen Dads Must Wait 5 More Months