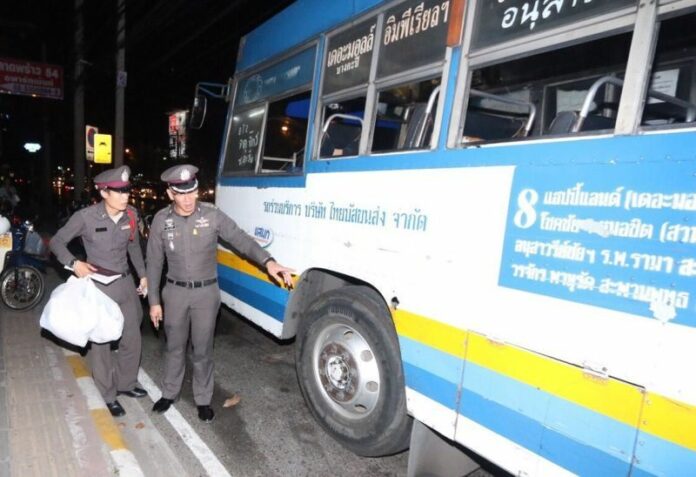 BANGKOK — A 60-year-old woman died Friday evening when the motorbike taxi she was riding collided with a city bus notorious for its danger.
Police last night charged Tim Aumvithi, 57, the motorbike taxi driver and Manu Pilaiphan, 55, the driver of bus No.8 for reckless driving after their vehicles collided on Lat Phrao Road just opposite the Chokchai Police Station, killing motorbike passenger, 60-year-old Inthira Srivimol.
"They were charged at 11pm," said police Lt. Aekkarit Roopsa-ard. "The details cannot be confirmed yet since we are still investigating."
Witnesses said the incident took place because a taxi was parked in the bus lane, forcing another bus, No. 44, to swerve into the middle lane. The motorbike taxi riding in that lane then had to steer out of its way, prompting it to crash with the No. 8 bus which was close behind.
Inthira was thrown from the motorcycle and run over by the bus's rear left tire, according to witnesses.
Bus No. 8 is infamous for its poor service and dangerous driving. It consistently tops the ranks of complaints, last year drawing 345 complaints.