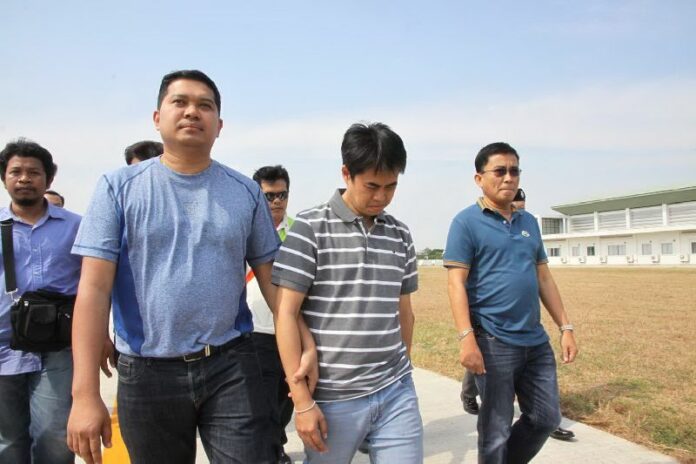 BANGKOK — Two men who opened fire on a Toyota last month on Rama IV Road were arrested Sunday morning as they attempted to flee into Myanmar.
Puritchakarn Wongdee and Panupong Chulathip were caught at the Myanmar-Thai border in Tak province's Mae Sot district following a 10 day search that began after they shot a man six times as he drove down Rama IV Road in Bangkok.
Pol. Col. Jamraeng Sudjai of Mae Sot police said by phone Monday morning the two suspects were about to escape across Moei River into Myanmar early Sunday morning when they were taken into custody.
Acting Bangkok metro police chief Sanit Mahatavorn flew by helicopter to the area to return the two suspects to Bangkok.
Puritchakarn told police jealousy drove him to shoot Suvit Anannateechai, because his ex-wife had left him for the man last year. He said that he ran into the couple at Bangkok's Khlong Toei Market on March 23, so he and Panupong hopped on a motorbike and gave chase. Suvit was driving the vehicle when Puritchakarn allegedy fired seven rounds through the windshield. Despite being shot six times, Suvit survived the attack.
Puritchakarn and Panupong were brought to "re-enact" their alleged crime Monday morning at the scene near Khlong Toei Market.

Related stories:
Ex-Husband Prime Suspect in Attempted Assassination on Rama IV Road
Motorist Survives Rama IV Road Assassins