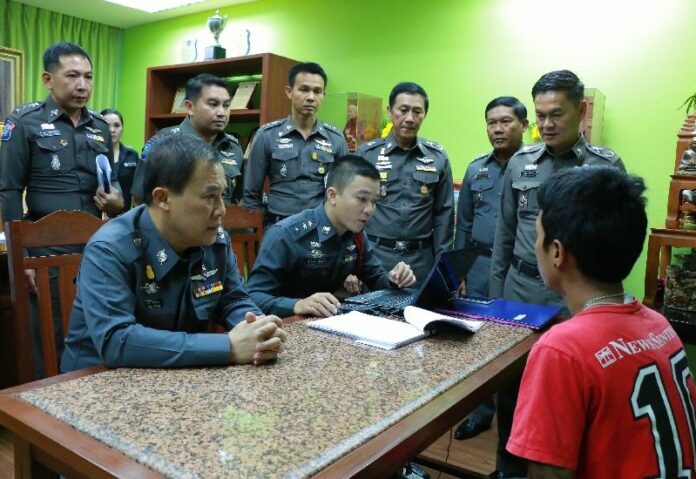 HUA HIN — Police said they have laid the "most severe" charges possible against those accused of battering three British tourists and leaving them unconscious in a road after arresting the fourth suspect in Hua Hin last night.
Chaiya Jaiboon, 20, was arrested Thursday evening, shortly after footage of the attack, which took place during the Songkran festival, was first reported and became an international news sensation. Chaiya's three alleged accomplices were arrested April 16.
---
Three Arrested Over Brutal Beating of British Family
---
The four men are accused of beating British tourist Lewis Owen and his parents, Rosemary Owen and Lewis Owen, on Soi Bintabaht until they were left unconscious on the street.
Apart from Chaiya, the other three men were identified as Yingyai Kwangkum-in, 32; Supatra Baithong, 32; and Siva Yoksri, 20. All have been charged with causing grievous bodily harm, said Chaiyakorn Sriladacho, head of Hua Hin police.
"This is the most severe charge we can possibly lay against them," Col. Chaiyakorn said. "If there's anything more severe than this, it's if the victims die."
According to Chaiyakorn, Owen needed stitches for his head wound while his father sustained bruises on his face, head and chin.
Rosemary Owen, who's believed to be 65, suffered the worst injuries, Chaiyakorn said. Several health complications have arisen, according to the latest medical evaluation, such as an irregular heartbeat and internal bleeding in her skull.
"Doctors just had an operation on her to drain blood from her head on April 25. We are closely monitoring her condition," the officer said.
Despite the brutal nature of the crime, the beating of the British family was not reported in the national media until a local newspaper in Hua Hin obtained CCTV footage of the attack and posted it online.
The clip soon went viral, drawing expression of shock and anger from many Thais who feared the attack painted a negative image of their country as a top tourist destination.
"Is this what Thai culture really is? Who would come here for tourism now?" wrote Facebook user Kwang Pattanasiri on the post. "When tourists don't come here, you complain the economy is bad. In fact, it's us who drive tourists away. Goob job!"
British-born Richard Barrow, a well-known blogger who actively promotes Thai tourist attractions, voiced anger over the incident and the subsequent silence among Thai media.
"In protest against the Thai media's disinterest in the brutal attack on tourists in Hua Hin, I will NOT be promoting #Thailand today," Barrow wrote Thursday on Twitter.
Since the story went global, Thai authorities have tried to get out ahead of it. The deputy commander of the national police headed a televised news conference to announce the arrest of the fourth suspect, while the Governor of Tourism Authority of Thailand said it's working with local officials to assist the victim family.
But Lewis Owen was quoted in a British tabloid saying he and his parents were never going back to Thailand after what happened.
"I'm not going back to Thailand again. Mum and dad won't be either. Never, ever again," Lewis Owen, who lives in Singapore, told The Mirror.
Chaiyakorn, the head of Hua Hin police, told a reporter that Lewis Owen Sr. and Rosemary Owen, who are set leave Thailand on Tuesday, would not consent to be interviewed, citing their need to rest.
Related stories:
Scotsman Brutally Assaulted By Thais In Pattaya, Police Say
British Tourist Assaulted by 3 Thais in Pattaya
Netizens Jeer Bargirl in Songkran Sexual Assault Video
Teeranai Charuvastra can be reached at [email protected] and @Teeranai_C.