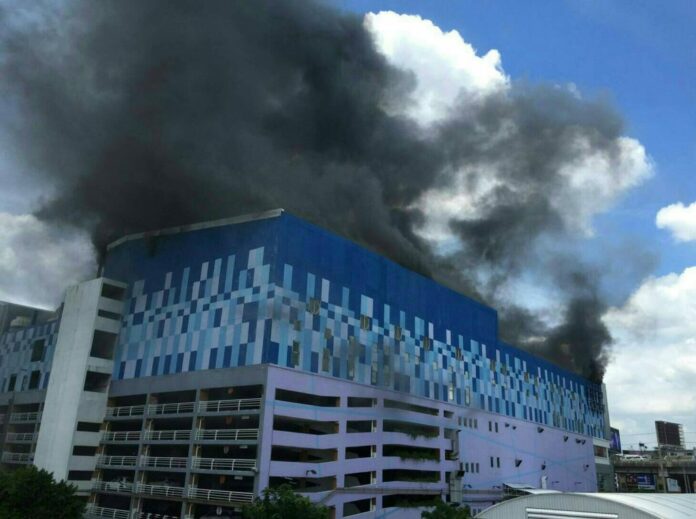 BANGKOK — Revelations that no smoke detectors or fire suppression systems were installed inside a large cinema destroyed Thursday by fire has prompted officials to inspect 300 other cinemas in the capital city to find out if they comply with fire regulations.
Instead of smoke detectors, Major Cineplex Pinklao in western Bangkok relied on heat detectors, which take longer to set off an alarm, according to Bussakorn Saensuk, a fire hazard expert for the Engineering Institute of Thailand.
Even more so, the theater relied on fire extinguishers should disaster strike.
No One Hurt in Fire at Major Cineplex Pinklao, Police Say
"Major didn't have any sprinklers," Bussakorn said Tuesday by telephone. "And the fire alarm there didn't detect smoke. It was a heat detector, which works slower."
Attempts to put out the blaze using hand-held extinguishers failed, she said.
"Because of the lack of smoke detectors, and because of building materials which easily caught fire, the blaze spread quickly until fire extinguishers could not contain it,"
The law allows use of either type of detectors, but smoke alarms are far more reliable, Bussakorn said.
No one died when fire ravaged four of Major Cineplex Pinklao's cinemas and eventually caused its roof to collapse, as the theater had not yet opened when the blaze started.
Had the cinemas been packed with movie-goers at the time, Bussakorn said, the results could have been devastating.
"It was very risky," the official said.
Alarms Raised
In light of the Friday's fire, the Bangkok Metropolitan Administration has dispatched teams to inspect more than 300 cinemas in the capital. Bussakorn said there's no central database where each cinema registers its fire safety equipment equipment and building material, so officials have to visit each place.
In the first first venue they visited, Central Plaza Rama IX, officials already found problems.
"We found that there were many flaws that have to be fixed, such as their fire escape routes," Taiwut Khankaew, director of the administration's Building Control Division, told reporters. "Furthermore, some of the decorations inside the venue were of a highly flammable material. They have to fixed by coating them with fire retardants."
On Wednesday teams will inspect theaters at Paradise Park, with Siam Paragon to follow. Bussakorn said officials hope to complete the citywide inspection this month.
Fire hazard is a recurring issue in Thailand, where code enforcement is lax and officials' attention usually comes only after tragedy strikes.
A school dorm in Chiang Rai province was allowed to operate for decades despite violations of fire safety laws, such as the lack of smoke detectors and alarms, until it burned down in May, killing 17 children sleeping there.
Related stories:
'Reprimand' is All For School Where 17 Sleeping Kids Killed in Fire
Case Closed With No Charges Over Fire That Killed 17 Children
No One Hurt as Fire Destroys Bangkok's 'Funky Villa' Nightclub