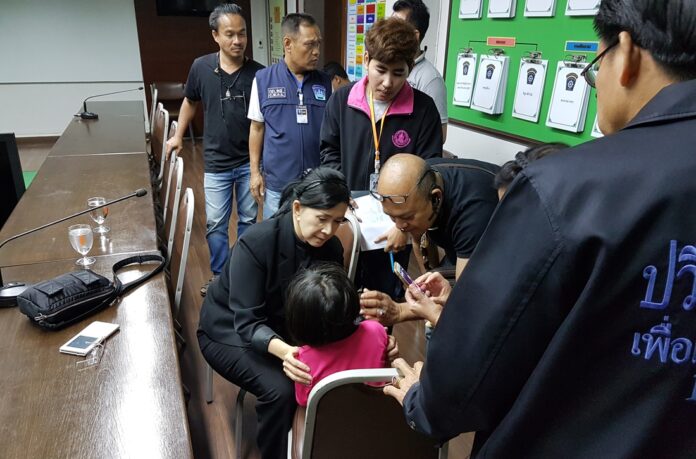 BANGKOK —  A 5-year-old girl was receiving counseling Monday after police rescued her from her mother who was filmed abusing her at their home.
Police in the southeastern capital suburb of Samut Prakan arrested Tassanee Kaewpila, 35, on Sunday following an outcry on social media over disturbing footage of the abuse, in which she used a broomstick to beat her daughter and at one point held a knife at her throat.
Police arrested Tassanee within four hours of the video being posted to Facebook.
"The girl is now under custody of the provincial chapter of the MSDHS," local police station chief Col. Pichit Boonchinwutthikul said, referring to the Ministry of Social Development and Human Security. "She's there for mental rehabilitation and questioning."
Tassanee, a mother of twin girls, was released after interrogation on Sunday, and police will summon her back to hear the charges against her, Pichit said. She faces possible charges of assault and domestic violence.
He added that police are waiting for results of a medical examination of the girl's injuries before they file charges against Tassanee, and depending on the severity, she would stand trial in either the Juvenile, Circuit or Provincial court.
"Once we have the examination result from doctors and the report from MSDHS, we will file charges and bring her to the appropriate court," Pichit said.
Video of the alleged abuse was first posted to a popular Facebook page called YouLike at about 10am on Sunday. Footage of Tassanee appearing to thrash her toddler by the hair, beat her and hold a knife to her throat immediately drew widespread condemnation.
Police raided Tassanee's residence at about 1:30pm and took her daughter into protective custody.
Tassanee reportedly said her mother-in-law in Surin province took care of her twin daughters while she and her husband worked in Bangkok, but recently her husband brought the children to stay with them in the capital city.
Tassanee told officers that raising the twins proved too difficult for her, and she lost her temper, police said.
"The mother was sorry," Col. Pichit said. "She didn't know that it would escalate into a big issue like this."