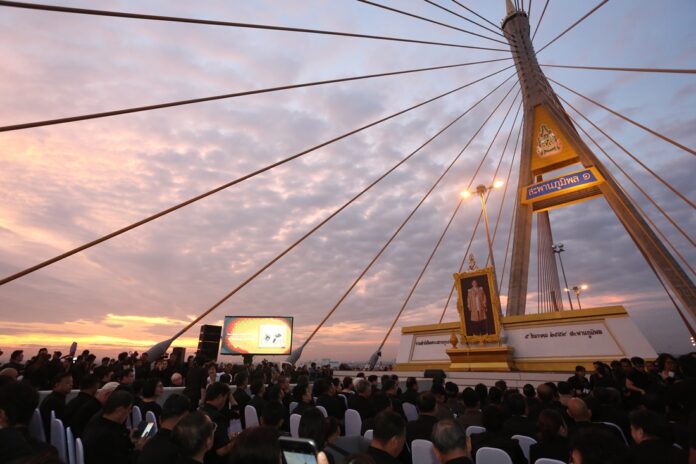 BANGKOK — A slew of events from Buddhist rites to a jazz concert were planned for Monday, the anniversary of His Majesty the Late King Bhumibol's birthday that had been celebrated as Father's Day for nearly four decades.
Buddhist ceremonies will be held at the Grand Palace, City Hall, Government House and other government properties. King Vajiralongkorn, the recently-ascended Rama X, is to preside over the ceremony at the palace.
To mark Father's Day in years past, before the King grew too ill, citizens would gather to hear his unscripted annual birthday speech on TV. As the day faded and lights came on along Ratchadamnoen Avenue, crowds would also gather to light yellow candles for him. Last year, a nationwide "Bike For Dad" cycling event was held.
This year, an exhibition honoring King Rama IX on Bhumibol Bridge has seen large crowds gather, with 999 monks gathering there today to make merit for the late king.
At 6pm in front of City Hall there will be a jazz concert in honor of the late monarch, who was a jazz enthusiast and lifelong saxophone player.
The national Buddhist authority plans to hold mass ordinations of 88 monks per province.
Dec. 5 was declared National Day under junta chairman Sarit Thanarat in 1958. Starting in 1980, the date started being celebrated as Father's Day, with the birthday of Queen Sirikit becoming celebrated as Mother's Day on Aug. 12.