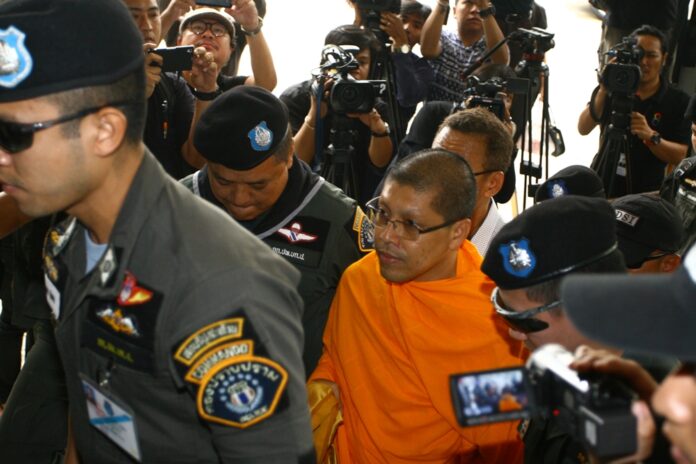 Update 3.20pm : The court granted Phra Sanitwong bail on the condition he not give interviews that "incite unrest" or enter Wat Dhammakaya, which has been declared a restricted area by the junta.
BANGKOK — A monk-spokesman for Dhammakaya on Thursday turned himself to police to face charges of insurrection, a day after a warrant for his arrest was issued.
Phra Sanitwong Charoenrattawong arrived at the Crime Suppression Division this morning, where he was being questioned by police as of press time. Police accused Sanitwong of citing unrest in his interviews to the media, and they are expected to request the court to jail the monk when he's taken to a remand hearing later today.
"We will contest his bail release," division commander Suthin Sapphuang said by telephone.
Read: Al Jazeera's Report on Dhammakaya Chopped by TrueVisions (Video)
Sanitwong is charged with insurrection and dissemination of "false" and "damaging" remarks under the Computer Crime Act.
The social media savvy 45-year-old has been a public face of Wat Dhammakaya since security officers started laying siege to the temple three weeks ago. He regularly posted rebuttals to authorities on his Facebook and gave daily media interviews until police charged him on Saturday, after which he disappeared from public view.
The court issued an arrest warrant on Phra Sanitwong on Wednesday, prompting the monk to contact the authorities assuring he would turn himself in, police said.
A combined force of police and soldiers are surrounding Dhammakaya Temple in an effort to capture its spiritual leader, 72-year-old Dhammajayo, who been charged with money laundering and 300 other offenses.
The deputy director of the Department of Special Investigation, the agency in charge of the siege, told reporters Wednesday he expected the operation to come to an end "within five days." But on Thursday a department spokesman played down the statement.
"Since security officers have been engaged in their operation for a while now, there might be a [new] certain measure soon," spokesman Woranan Srilam said. "We are not hurrying for an endgame as the news reported."
Correction: An earlier version of this article misstated Phra Dhammajayo's age to be 66. In fact, he's 72. 
Related stories:
DSI Suspects Dhammajayo Hiding in Newly Fortified Hospital
DSI Detects Dhammajayo's Phone Signal
Dhammakaya Monks Confront Soldiers Trying to Enter Unfinished Hospital
Inside Wat Dhammakaya, Defenders Say Morale and Mistrust Run High