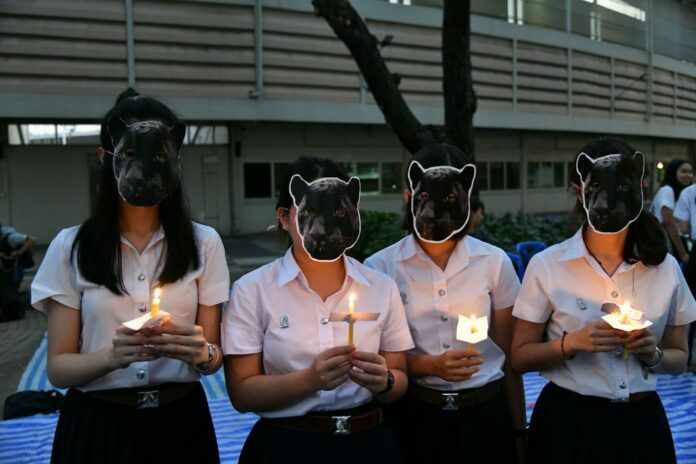 BANGKOK — University students held a vigil Tuesday evening to mourn the animals that a powerful businessman is accused of slaughtering inside a wildlife sanctuary recently.
About 50 students from Chulalongkorn University's Environmental Reservation Club put on black panther masks near a university stadium to mourn the animals Premchai Karnasuta, president of Italian-Thai Development, and another three men allegedly killed during a visit to Thungyai Naresuan Wildlife Sanctuary on Feb. 5.
The vigil took place after a live performance, panel discussion and poetry session to raise awareness of illegal hunting.
Club member Nicha Vejpanich said she was shocked when she learned the black panther had been killed in the sanctuary, as she had been there in May and felt a bond with the nature there.
Nicha said her group would host a seminar Wednesday afternoon at Chulalongkorn University under the topic "Endangered species: An issue that needs to be solved" with five panelists from environmental and other organizations.
Authorities arrested Premchai Karnasuta, president of Italian-Thai Development and another three men at about 2am on Feb. 5 at the park and charged them with six poaching-related crimes. They found them in possession of animal carcasses and hunting weapons.
Related stories:
Ex-Official Wanted For Helping Premchai Linked to Italian-Thai
Forest Ranger: Poacher Premchai Offered Bribe
Hero Worship: Thailand Lionizes Humble Defender of the Wild
Rangers: Premchai Ate the Leopard in a Soup
Rifles, Ivory Found in Construction Magnate's Home