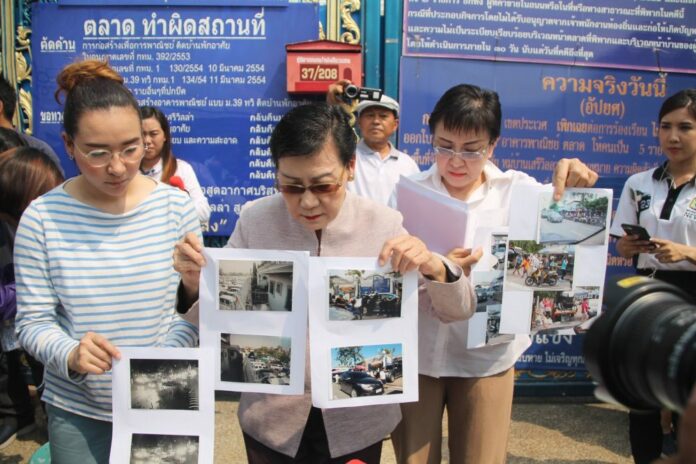 BANGKOK — The administrative court is set to rule Wednesday whether City Hall was complicit in allowing five markets to operate illegal around a residence in eastern Bangkok despite years of protests by a family living there.
If found guilty, the Bangkok Metropolitan Administration would have to compensate the Saengyoktrakarns, who became social media sensations when their rage boiled over in dramatic fashion, for neglecting to close down the markets.
One of the family members told reporters she would only comment on the case after the verdict is read.
"I've been fighting for years for a place to live and justice," Boonsri Saengyoktrakarn said Thursday, when the date was announced. "Please wait for the verdict on 16. After that I will be able to give you my comment."
Armed with an axe and a metal pipe, Boonsri and her sister attacked a pickup truck parked in front of their mansion by a shopper at the nearby unlicensed markets in February. Footage of the incident went viral, earning the siblings the nickname "Car-Whacking Aunties," and widespread sympathy soon poured in from netizens.
The video played out before a backdrop of their home, which is plastered in various placards displaying their past court victories that had still failed to oust the markets.
Pressured by the outrage on social media, the authorities dismantled the five markets, after more than two decades of operating in full view of the law.