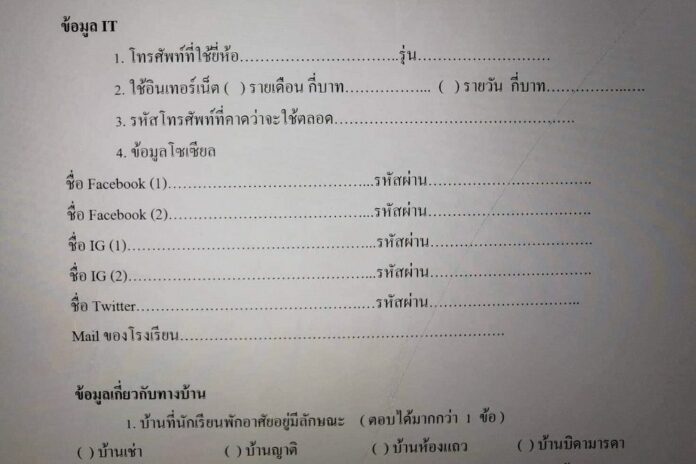 CHIANG RAI — A school in the northern province of Chiang Rai said a form asking students to give up passwords for their social media accounts had been withdrawn.
The questionnaire issued by Chiang Rai Municipality School 6 drew the ire of netizens after someone who identified himself as an alumnus posted it on social media, raising concerns over students' privacy and safety.
"I'm not OK with this. I'm an alumnus, but doing this is the infringement of privacy," the user wrote. "You don't have the right to ask for passwords like this. You can confiscate mobile phones, but this is unacceptable. I ask the school to put more thoughts into this."
According to photos of the questionnaire, students are asked to fill in details of their Facebook, Instagram, and Twitter accounts, including the passwords under the "IT" section. They are also asked to provide the make and model of their mobile phones and how much they spend on internet packages.
Other questions ask the students how many rooms there are in their house, how many appliances they have, and how many cars in the household.
The school said the questionnaire is genuine, but it has been cancelled after a widespread criticism online.
"We have ordered it to be withdrawn immediately," the school said in a statement. "We found that it's a goodwill of one of our employees who took the position recently. The personnel wanted to collect students' personal information to prepare student profiles. It was created arbitrarily and was not approved by the school."
Chiang Rai Municipality School 6 is attended by about 3,500 students from Matthayom 1 to Matthayom 6.
Leaks of unsecure personal information are frequent incidents in Thailand, where privacy advocates have been pushing for tougher measures to protect data security. 
Similar concerns were raised over the Thai Chana website that collects personal data of customers who visit malls and shops during the coronavirus pandemic.