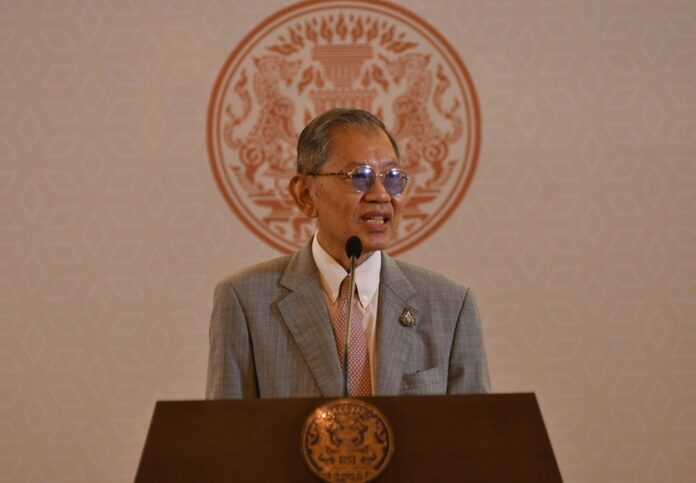 BANGKOK — The head of a committee investigating alleged misconducts over the handling of Red Bull heir's hit-and-run charges said on Friday individuals in eight different parties were implicated in the wrongdoing. 
Panel chairman Vicha Mahakhun said he recommended the Prime Minister to take legal action against the unnamed individuals for conspiring to drop all charges against Vorayuth "Boss" Yoovidhya, who stood accused of killing a policeman with his Ferrari in 2012.
Vicha said Vorayuth's lawyer team delayed the investigation by filing complaints to the Parliament claiming unfairness for 14 times – and his complaints were accepted every time except one.
Police investigation had to stop while the lawmakers and lawyers determined whether the complaints held any merit, Vicha said.
The committee identified the eight parties as the investigators, prosecutors, police commanders, members of the legislative branch, politicians, lawyers, witnesses, and the "mastermind." No name was given.
Vorayuth, a scion of the Red Bull energy drink empire, was never brought to trials for his killing of Sgt. Maj. Wichian Klanprasert, a policeman on patrol duty, in September 2012. He was also permitted to leave the country while the investigation was ongoing.
The prosecutors quietly dropped all charges against him in July, provoking an uproar from the public.
But a person familiar with Vorayuth's legal defense said security camera footage showed Vorayuth and Sgt. Maj. Wichian drove on different lanes prior to the crash, suggesting that Wichian's motorcycle might veer into Vorayuth's direction.
The source also insisted that investigators initially noted down Vorayuth's speed at the time of the crash as 80kmph, not 177 kmph as later suggested, and an expert testimony agreed that a speed over 80 kmph was unlikely.
"But these things are not considered by or presented to the society as much as they should be," the source said. "It invites the question why this matter becomes a topic just as the political situation is heating up."
The person added that Vorayuth apologized to Wichian's family in person and attended his funeral evernight, as well as paying a sum of compensation to the family without waiting for any court verdict.
"How can the intervention into the judgment of the prosecutors be legitimate and right?" the source said. "And how can it be legal to revive a case that was already dropped? Is this an attempt to bully someone?"