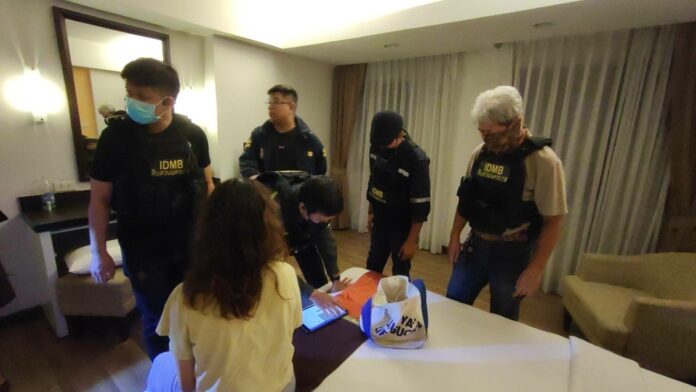 BANGKOK — Police on Saturday said they rescued a woman who was tricked by scammers into staging her own abduction for ransom from her family.
The victim, a second-year university student, was found unharmed alone in a hotel room in Bangkok's Lat Krabang district on Friday, commander of Metropolitan Police's investigation unit Teeradet Thammasuthee said. Her family sought help from police after the scammers contacted the victim's mother, falsely claiming that her daughter had been kidnapped and demanded a ransom of 3 million baht.
"This is the latest trick employed by call center gangs," Maj. Gen. Teeradet said. "They deceived both the victim and the victim's parents into paying ransom."
Police said the victim received a phone call claiming to be Thailand Post on Friday afternoon, saying she sent a parcel containing contraband goods. When the victim declined, the scammer then transferred the call to another scammer posing as police who pretended to look into her files and led her to believe that she was wanted for alleged money laundering.
Out of panic, the victim gave out her personal information to the scammer, including her parent's contact information, and was deceived into transferring her money "for examination." The scammer then instructed the victim to check into a nearby hotel room and stay there "for her safety" while the alleged investigation was being conducted.
Once in the hotel room, another scammer reached out to the victim's mother using the victim's Line account that they had obtained the password and threatened to cut her daughter's fingers if she failed to pay a ransom of 3 million baht.
The victim's mother was led to believe that her daughter was actually kidnapped as the scammer texted from her daughter's Line account. She then alerted the police and found her at a hotel near Suvarnabhumi Airport.
Police said initial investigation found that the callers were based in Cambodia and used video calling to manipulate the victim.
Police special advisor Sompong Chingduang said four similar cases had been reported so far. He advised students and their parents to beware of unknown callers.
________
Related articles: