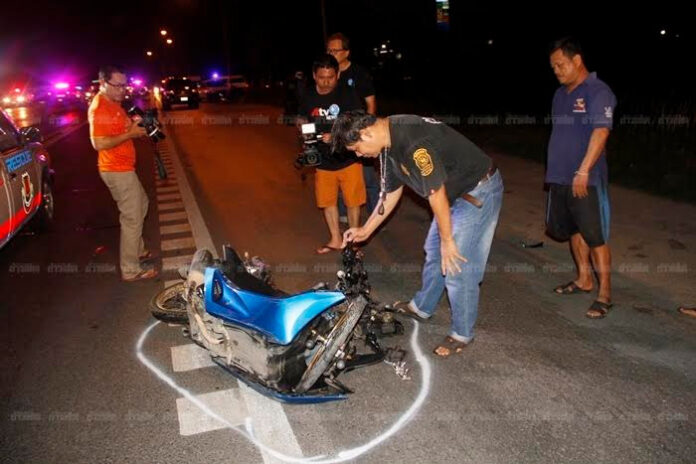 AYUTTHAYA — A 20-year-old man was killed and two injured early Tuesday morning after the three took part in a midnight motorcycle race that ended with at least one motorcycle ramming into a pickup truck in Ayutthaya province.
The illegal teen street race involved more than 20 motorcycles and took place at about 12:30am in Ayutthaya's Bang Pa-In district.
Police Lt. Weethawat Wanthawee, deputy chief investigator of Bang Pa-In police, said he was informed about the accident and upon arriving at the crash scene on Asia Road, saw scattered motorcycle parts. A blue Honda motorcycle belonging to the the killed man, 20-year-old Sorn-ram Pakeetham, was wrecked. The deceased was found in a pool of blood.
The two injured riders were Anupong Noipinit, 19, who was in serious condition and Supattara, a 17-year-old minor whose family name was withheld.
When police arrived, officers saw teen racers physically attacking the driver of the pickup truck involved in the fatal accident and had to rescue the man.
Five motorcycles were confiscated for driving without plates. A preliminary investigation found the driver, who was not identified, was driving out of a gas station when a number of racers came in at speed and at least one crashed into his truck.
Police said the racers were from Ayutthaya and nearby Pathum Thani provinces.