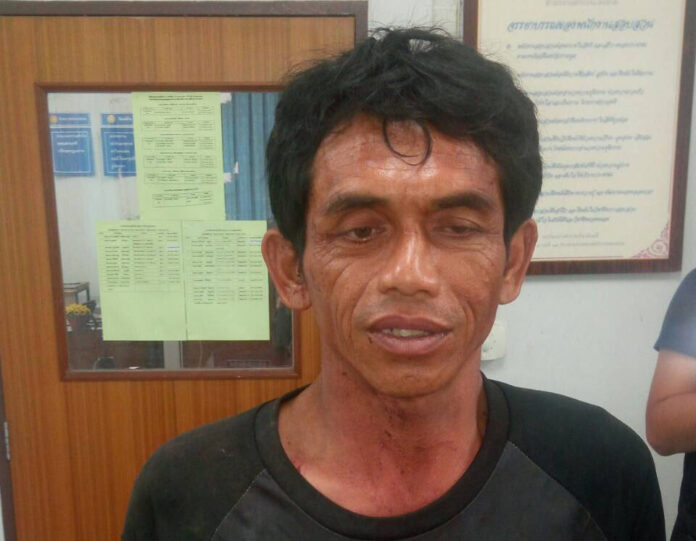 NAKHON RATCHASIMA — The driver of a tour bus that crashed and killed 18 passengers confessed to being high on meth at the time, police said Friday.
Krissana Jutacheun, 44, was arrested last night 7 kilometers from the scene of the crash after local residents noticed him wandering in an addled state and called police. Police had been looking for him since the night before, when he fled the deadly wreck that injured dozens of other passengers on their way home from a beach holiday.
"We found addictive substances after a urine test," police Lt. Gen. Damrongsak Kittiprapan said Friday morning. "Krissana confessed that he had smoked yaa baa twice during this driving job, on the 19th and on the 20th."
Read: With a Swerve, Pleasure Trip Takes Tragic Turn. Now Families Mourn.
The Kalasin native has been charged with fatal reckless driving, refusing to aid injured passengers and drug use.
Damrongsak said police took Krissana to Pak Thong Chai Hospital to avoid a confrontation with the relatives of those who died in the accident who were camped out at the police station. Police said Krissana had a history of drug offenses.
While the wreck's cause continues to be investigated, the accident has renewed calls for something to be done about the double-decker, long-haul buses involved in a disproportionate number of fatal accidents. Time and again, passenger deaths on such buses lead to calls for taking them off the roads, but state transport agencies have been unable or unwilling to follow through.
Visiting Isaan's Nong Bua Lamphu province Thursday, Gen. Prayuth Chan-ocha expressed his concern for road accidents this coming Songkran.
"We have to see what the reasons for the accidents are. Currently, we can't enforce a lot of laws because it would burden citizens. We can fix them, but you should still be cautious," Prayuth said. "A lot of accidents happen in more rural roads because we're monitoring main roads. It's really a death zone. So I would like to warn people to be careful and not drink while driving."
After Krissana was arrested last night, he told police that he fled the chaotic scene after seeing the carnage. He said he walked through the forest, tired and hungry.
He said that just before the crash, the bus was entering a downhill curve when the brakes malfunctioned. He saw that there was a truck carrying sugar cane on his left so he swerved right, losing control of the bus as it hurtled across the center divider, clipped another truck and crashed into roadside shops.
He only suffered minor injuries.
Related stories:
With a Swerve, Pleasure Trip Takes Tragic Turn. Now Families Mourn.
18 Die When Bus Collides With Truck
Students, Teachers Die in Field Trip Bus Plunge
1 Dead, 40 Injured as Tour Bus Carrying Students Overturns: Driver Charged