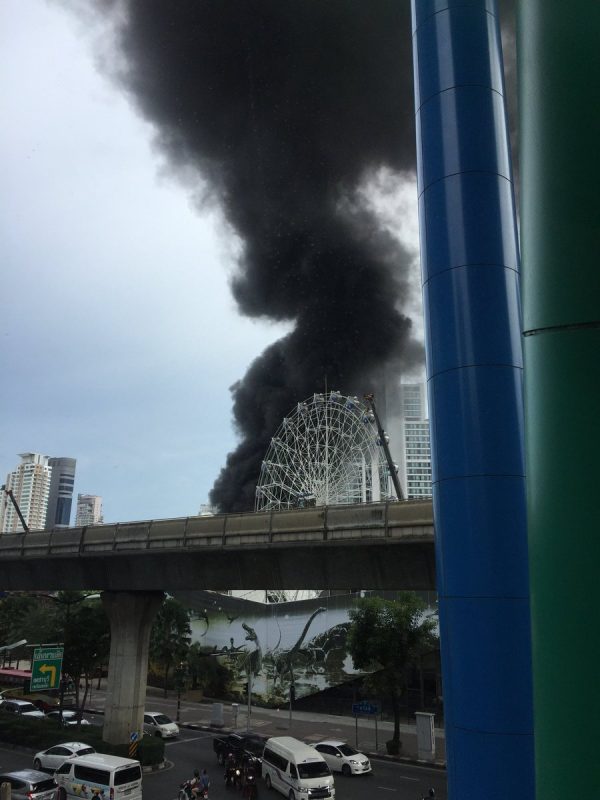 BANGKOK — A fire broke out Friday afternoon at a recently shuttered, dinosaur-themed amusement park on Sukhumvit Road. There were no reports of injuries.
At about 3pm , large clouds of grey smoke were seen billowing from the former Dinosaur Park near Soi Sukhumvit 22 after a fire started the venue, which is currently being demolished.
Fire fighters were putting out the flames as of 3:20pm.
In April 2016, fire engulfed a Ferris wheel cabin inside the venue. It was ordered shut 15 days after the fire was extinguished.
Dinosaur Park closed permanently on April 20 to make way for the construction of new shopping mall EmSphere.
https://twitter.com/NeilShelley/status/992314692713431040
Dinosaur Planet ไฟไหม้…?? pic.twitter.com/gGXrpZ3gCS

— เวียงละกอนหนาาา.. (@ohimiko) May 4, 2018
@js100radio ไฟไหม้ที่ Dinosaur Planet ค่ะ pic.twitter.com/ETPEEdgaFD

— จินเบซัง (@adventurousTH) May 4, 2018
ไฟไหม้ ไดโนซอร์ สุขุมวิท 22 pic.twitter.com/5IK9PTcLoJ

— อา เธอร์ เวอร์ วัง ! (@arthur8009) May 4, 2018
dinosaur park สุขุมวิทไฟไหม้ค่ะ @js100radio pic.twitter.com/lPKGTnyVBj

— Ball000O000n (@Nekocococo) May 4, 2018
Related stories:
Fire Engulfs 'Dinosaur Planet' Ferris Wheel Cabin