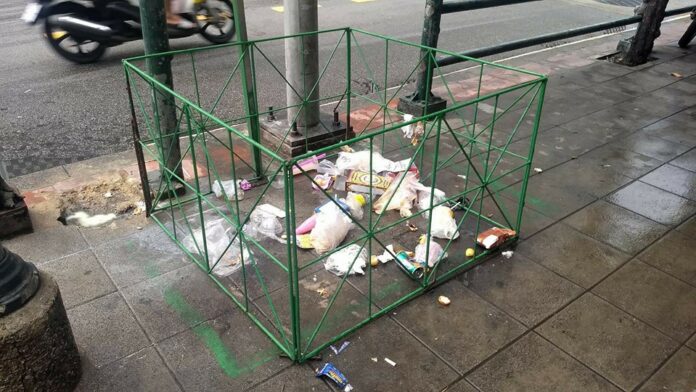 BANGKOK — Netizens on Friday were decrying the behavior of people who misused the capital's newly installed trash cages, prompted by a post showing rubbish thrown haphazardly into one of them.
An initiative by Bangkok Governor Aswin Kwanmuang's administration to install trash cages (khok kiew or "green pens" in Thai) and reduce the sprawl of bags dumped unceremoniously on the capital's sidewalks began Wednesday. But a Thursday post by Facebook page Thailand Footpath, which shows trash carelessly thrown into the cages, ignited online criticism of Thai discipline – or the structures themselves.
"Instead of blaming politicians, blame yourself for not having discipline and order in your life. Whatever rules they come up with, you still don't obey and break them. #UndisciplinedSociety," commented Facebook user Fang Smolic on a Khaosod news post.
Many of those blaming Thai behavior used comparisons with Japan.
"In Japan you can hardly find a trash can, but trash doesn't overflow their country because each person has a lot of conscience, trained into them since they were young. Their laws are also strict. But here, we can't even accomplish easy things. We don't have collective responsibility. We can't just blame the government," wrote top commenter Sornwongsa Chakrit.
Others said the cages were ill-adapted for Thailand.
"How did they come up with this idea? Water will flood and make the entire road dirty and stinky. Use trash bins. If you want Thais to be orderly, hit them with a 300 baht fine for each piece of litter," user Jabagakach Kapachajad wrote.
A Wednesday post on Aswin's Facebook page says trash cages – now found in all 50 Bangkok districts – are still a work in progress.
"The locations and trash pickup schedules are still in testing stage," the post reads. "I want each district to have the freedom to help think of ideas for the pens that will be most suitable for each area."
Aswin mentioned in the post that Bang Khen district used recycled metal parts to make their trash cages and only used funding for the paint. The post was accompanied by photos of bins from other countries, such as a large netted area used in Japan and large cages used in France.