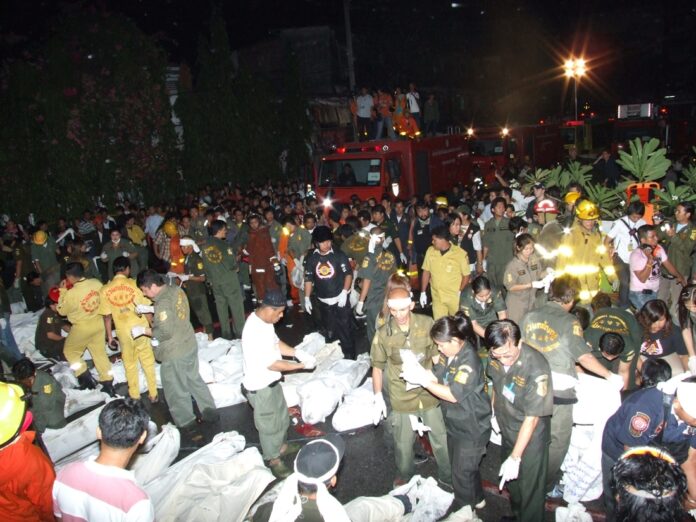 BANGKOK — The high court on Monday upheld a lower court's ruling that City Hall's negligence contributed to the deaths of 67 people in a nightclub fire eight years ago on New Year's Eve.
In its ruling, the Supreme Administrative Court ordered the Bangkok Metropolitan Administration to pay a total of 5.7 million baht to victims and families of those who died at Santika in an incident ranked as one of the worst fire tragedies in Thai history.
"I am happy about this verdict, but it's incomparable to losing my son," Esther Laopikanon, whose son Mark Laopikanon died in the fire, told reporters at the court. "Nowadays I still light candles and make merits for my son."
Esther was one of a dozen people to file a civil suit against City Hall in 2009, accusing it of failing to inspect fire safety equipment at Santika nightclub, which burned down shortly after midnight on Jan. 1, 2009, after a pyrotechnic effect malfunctioned.
In 2012 the administrative court agreed, noting that Santika lacked many crucial safety features such as fire exit signs, smoke detectors, fire alarms and fire retardant materials. The judges also found the club was registered as a residential building instead of a commercial facility.
The court then ordered the city government to pay 5.7 million baht in compensation to the 12 plaintiffs, which included six people injured in the fire.
Esther said the families were still pursuing a separate civil suit against the club's owners.
A previous Supreme Court verdict in 2015 found Santika owner Visuk Setsawat and pyrotechnic production firm executive Boonchoo Laosinat guilty of deadly negligence, sentencing both to three years in prison. They are currently serving their sentences.
The blaze at Santika started after an indoor fireworks show to mark the new year went wrong. The club soon caught fire, fueled by flammable materials inside the building, and many victims were blocked from escaping by metal bars installed in the windows.
The incident prompted promises of more stringent fire safety measures from the authorities but further incidents have shown the regulations have been unevenly enforced.
In May, 17 schoolgirls were killed in a fire at a boarding school in Chiang Mai. An investigation found no safety equipment such as smoke detectors or fire alarms were installed in the room where the children slept. Inspectors merely reprimanded the school's owners for the oversight.
Related stories:
Death Traps: How Many Bangkok Theaters Lack Sprinklers, Smoke Detectors?
'Reprimand' is All For School Where 17 Sleeping Kids Killed in Fire
Case Closed With No Charges Over Fire That Killed 17 Children
No One Hurt as Fire Destroys Bangkok's 'Funky Villa' Nightclub