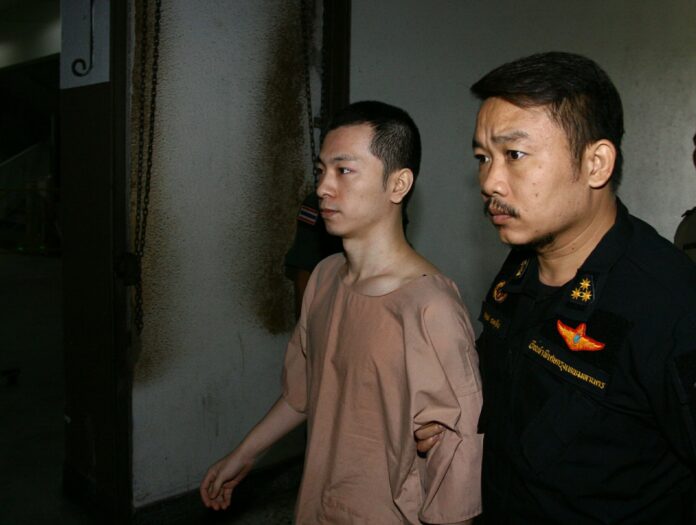 BANGKOK — Four Chinese men were ordered imprisoned for over 30 years for the bungled attempted robbery of a gun shop in Chinatown nine months ago.
Yang Zheng, Geng Ma, Kunpeng Li and Junwei Sun were convicted on multiple counts and sentenced to lengthy prison terms Tuesday morning at the Criminal Court on Ratchadapisek Road in Bangkok.
Read: Five Injured After Attempted Robbery at Chinatown Gun Shop
On March 4, four Chinese-speaking men armed with BB guns and knives entered the Interarms gunshop on Charoen Krung Road with a poorly considered plan to rob it. The well-armed owner and staff at the store opened fire on them, killing Xingjun Wu.
The would-be robbers fled but were quickly captured. Gang leader Yang Cheng didn't take part in the failed robbery and fled Bangkok. He was caught the next day in Nakhon Sawan province on a train bound for Chiang Mai.
Police said they had traveled to Thailand from Harbin in the north of China on orders to steal guns in Bangkok.
Junwei Sun was convicted on five counts including attempted murder, forgery, weapon possession and assaulting police. He was sentenced to 35 years and four months behind bars in addition to a fine of 3,000 baht.
The other three — Yang Zheng, Geng Ma and Kunpeng Li — were convicted of four charges and sentenced to 34 years and 10 months in jail, along with the 3,000 baht fine.
Related stories:
Alleged Chinatown Gunshop Robbery Mastermind Arrested
Gunshop Heist Suspect Dies, Footage Shows Motorbike Street Justice
Five Injured After Attempted Robbery at Chinatown Gun Shop