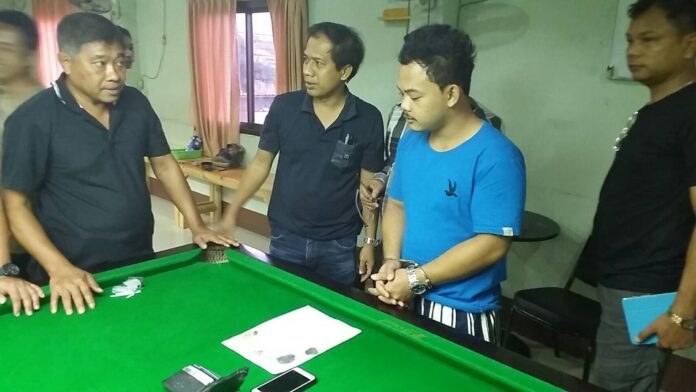 BANGKOK — A month-long hunt for a motorcycle gang that stole millions of baht worth of valuables from a policeman's car ended with two arrests Thursday night northeast of Bangkok in Nakhon Nayok province.
Chaiwat Prangmat, 24, was arrested at 10pm at the Sivanart Sports Center along with Laksaman "Tao" Glinampai, 24. They were named in warrants issued Oct. 19 in connection with the robbery earlier this month in the capital.
Chaiwat and his gang are accused of smashing the window of Lt. Col. Kriangkrai Ariyaying's car parked behind a restaurant on Oct. 1 in Bangkok's Bang Khen district. They allegedly stole dozens of rare Buddha images, 150,000 baht in cash and a Rolex watch. The goods had an estimated value of several million baht.
Police posted security camera images of the suspects fleeing the scene on a police Facebook page which they said led to tips resulting in the arrests.
Chaiwat's accused of leading a gang called Jakhoo which carried out auto burglaries, according to Col. Teerachai Chamnanmhor of the metro police force. He said each person in the gang had specialized roles and would target cars parked near restaurants in the Bang Khen, Khan Na Yao, Suan Luang, and Sai Mai districts.
The gang reportedly split the loot to party and buy drugs, police said.
Teerachai said Chaiwat and Laksaman will be charged with theft and likely face jail time. Police are still looking for more members of their gang and the property they stole.
On the street, Chaiwat went by the name Nhoeng Ramkamhaeng. As to why they stylized themselves "Jakhoo" in English, Teerachai remained puzzled.
"I don't know why they named their gang Jakhoo," Teerachai said. "It's just something young people do," Teerachai said.