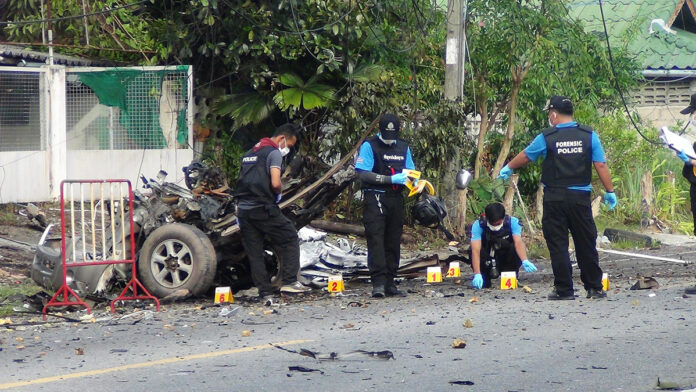 SONGKHLA — In the aftermath of a truck robbery in which one hostage and one suspect were killed, an official on Friday floated the idea of reintroducing martial law in the southern province of Songkhla.
Thavorn Senniam, a former deputy interior minister and former member of Songkhla's House of Representatives, said the government should consider declaring martial law in Songkhla's Jana, Thapha, Na Tawee and Saa Yoi districts.
The four areas had been under martial law since January 2004, which was lifted in 2010 and replaced with the National Security Act, which Thavorn dismissed as weak and responsible for the surge of violence.
"Martial law must be redeclared in the four districts in Songkhla," Thavorn said Friday. "The culprits know legislation over these four areas right now is ineffective, so they hide themselves in these four districts. Plus, the officers don't want to risk gathering witnesses and proof and enforcing the law effectively."
Read: Truck Bomb Ring is New Generation of Militants: Officials
On Wednesday morning, seven gunmen raided a car dealership in Songkhla's Na Tawee district. They stole five cars and abducted four men, including the business' owner. One hostage was shot to death. Another was badly injured by a gunshot wound while two escaped to seek help from police.
A man killed during a shootout was identified as Nurhasan Arwear, a 23-year-old Pattani madrasa student.
The commander of a special task force in Pattani province Maj. Gen. Jatuporn Klampasut on Friday said the seven perpetrators were young members of a new ring of about 15 people split into three groups involved in deploying car bombs. They were believed to be members of a new generation of the 54-year-old Barisan Revolusi Nasional, or BRN, a separatist movement seeking the secession of three southern provinces.
Officials believe the militants carried out Wednesday's attack at a dealership in Songkhla due to tight security in the three southernmost provinces of Yala, Pattani and Narathiwat.
Correction: An earlier version of this story mistakenly said that marital law was proposed for the southern provinces. In fact Thavorn Senniam was proposing it for his home province of Songkhla. Martial law is already in place in the three southernmost provinces of Yala, Pattani and Narathiwat.
Related stories:
Truck Bomb Ring is New Generation of Militants: Officials
Hostage Dies, Stolen Truck Explodes at Police Station
Hunt on After Trucks Stolen, Staff Killed at Deep South Dealership