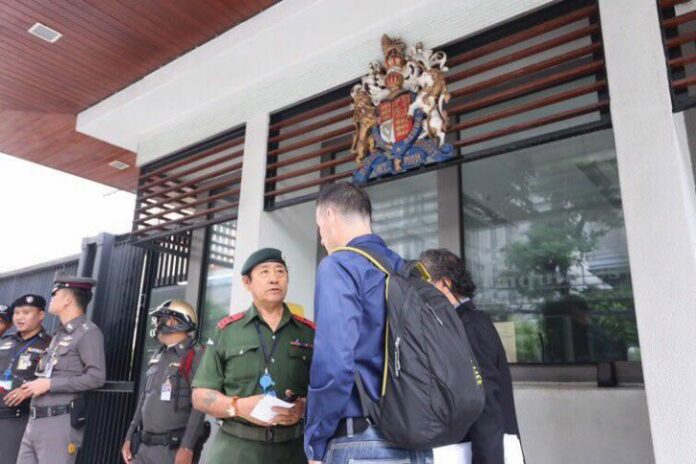 CHONBURI — Two young children remained in state care Wednesday after being separated from their parents in a custody battle involving allegations of child molestation that could drag on for months.
Police are investigating allegations of abuse first brought in January by the children's biological father against their mother's boyfriend, who has denied wrongdoing and retaliated with his own legal complaint. The children were placed in protective custody Friday after they refused to go home with their mother.
The dispute began when French national Cedric Servan complained to police that his two children, a 5-year-old boy and an 8-year-old girl, had been sexually assaulted by their mother's boyfriend. It gained national attention after a video clip emerged of the children screaming and refusing to be returned to their mother.
Based on testimony from the children, police said Wednesday they intend to charge David Jules Simpson with sexually abusing a minor.
Servan went to Pattaya police in June where the abuse allegedly took place and where Simpson, a British national, resides.
Capt. Nakornrat Nonsilad said medical examinations of the children found no evidence of rape, but the children told investigators they had been sexually abused.
Simpson has responded to Servan's accusations by accusing him of filing a false police report, according to Pattaya police chief Col. Apichai Krobpetch.
In the spotlight, Apichai said his officers were diligently trying to investigate the case and gather evidence.
Servan told police he met his ex-girlfriend, identified only as Lin, a decade ago in Hong Kong. There they had a daughter together but did not legally marry. The couple came in 2011 to Pattaya, where she gave birth to their son. They later separated, and she became involved with Simpson.
On Aug. 9, the Chonburi Juvenile and Family Court ordered Servan to return the children to their mother. At a meeting arranged Friday at Bangkok's Lumphini Police Station, the children became upset and physically resisted their mother as she attempted to leave with them.
Social workers decided to take the children into protective custody.
As of Wednesday afternoon, the two children were currently in the care of a pediatrics unit at Chulalongkorn Hospital, Daranee Narudompong of the Protection of Children's Rights Foundation said. She declined to give further information, saying "it could affect the case."
A representative from the Department of Children and Youth was also reticent, saying only that the case was "very sensitive."
Correction: An earlier version of this story misidentified the age of one of the children. He is 5 not 4.