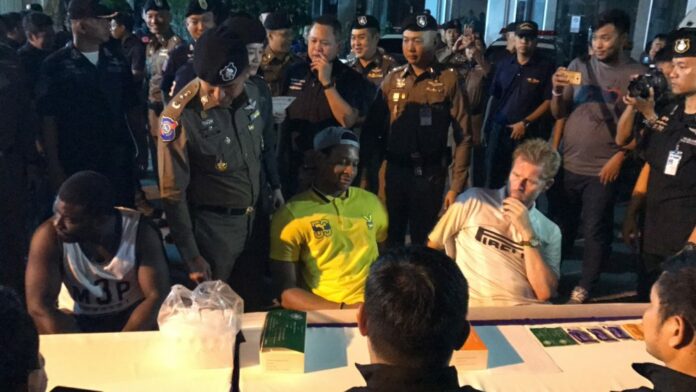 BANGKOK — An ongoing crackdown on illegal immigrants saw the arrest of almost a hundred foreigners early Thursday morning in the capital.
Police officers arrested 99 foreign nationals at about 2am on Thursday – the ninth crackdown of ongoing operation "X-Ray Outlaw Foreigner" – before holding a press conference at Montien Hotel on Surawong Road.
Maj. Gen. Surachet Hakpal, Tourist Police Deputy Commissioner, said more than 60 foreigners were charged with illegal entry while another 20 were charged with overstaying their visas. Nationals hailed from India, Myanmar, Cameroon and Nigeria.
Surachet said one of the arrested is a 35-year-old Nigerian man who had been wanted for drug possession. An arrest warrant for him had been issued on April 10.
Related stories:
Police Raid Khaosan, Nana in National Sweep of Foreigners
Continued Crackdown Sees Arrest of 122 Foreigners in Bang Rak
144 Arrested as Part of Operation 'X-Ray Outlaw Foreigner'
75 Foreigners Arrested in Soi Cowboy Crackdown
Africans, Indians Arrested in Latest Raid on 'Black People' (Video)