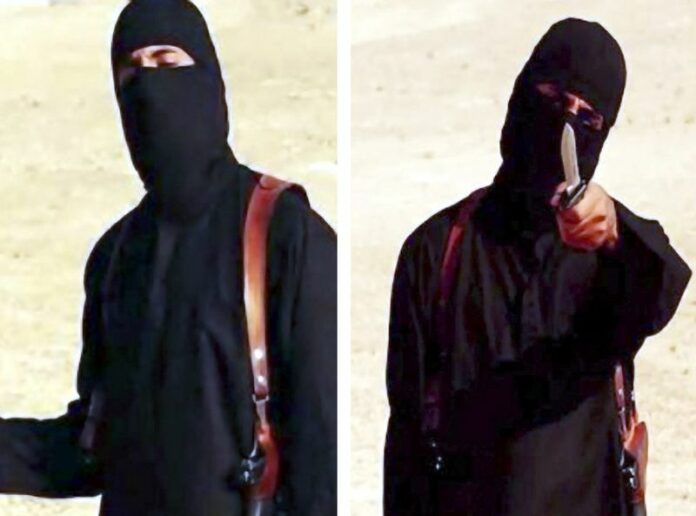 BEIRUT — The extremist militia Islamic State on Tuesday confirmed the death of one of its executioners, a Kuwaiti-born British national nicknamed Jihadi John by Western media.
He was killed in a U.S. drone strike Nov. 12 in the Islamic State stronghold of al-Raqqa, Syria, the group said in its English-language propaganda magazine Dabiq.
The Pentagon on Nov. 13 had said it had a "great deal of confidence" that Mohammed Emwazi, who became infamous from beheading videos in which he spoke with a London accent, was "evaporated" in a strike against a car.
Emwazi first surfaced in a video in the beheading of U.S. journalist James Foley in August 2014.
Pentagon press secretary Peter Cook said Emwazi participated in the videos showing the killings of U.S. journalist Steven Sotloff, U.S. aid worker Abdul-Rahman Kassig, British aid workers David Haines and Alan Henning, Japanese journalist Kenji Goto and other Islamic State hostages.
In a three-page article, Dabiq praised Emwazi as a "martyr" who had fought in the Syrian civil war since 2012 beginning with the al-Qaeda linked al-Nusra Front.
Meanwhile, scores of Syrian regime forces and Islamic State militants were killed during clashes between the two sides over the past two days in eastern Syria, a monitoring group said Tuesday.
"At least 120 Syrian soldiers and their allies were killed; 40 of them were executed when Islamic State militants attacked the regime-held area of al-Baghaliyeh," the Syrian Observatory for Human Rights reported.
The Britain-based monitoring group said that 70 militants from Islamic State were killed, 28 of them suicide attackers.
In recent weeks, Islamic State strongholds in Syria have been the target of intensified airstrikes separately mounted by a U.S.-led alliance and Russia.
Russian officers and engineers arrived in Qamishli, one of only two areas in the mainly Kurdish-held north-east, where government forces retain a presence, to study the possible expansion of the airport there.
Russia started airstrikes in Syria in support of the government in September. Moscow has supported the Kurds against rebel forces in recent weeks.
In al-Hassakeh province in the north-east, the Observatory said that U.S. forces have almost finished preparing an airbase that could be used for U.S. planes to strike Islamic State bases across Syria.
American technicians have been working for the past few weeks to expand and prepare the agricultural airport at Rumeilan with a runway specialized for warplanes.
The area is controlled by Kurdish forces which have been Washington's main ally on the ground against the extremist militia.
The airbase will also serve as a headquarter for Americans who have entered Syrian territory, the Observatory said.
In October, the U.S. announced that a contingent of less than 50 special forces would be sent to Syria to coordinate with local forces against Islamic State.
Meanwhile, new humanitarian deliveries were made Monday to the pro-regime Shiite villages of Foua and Kefraya – besieged by hardline Islamist rebels since April – in north-western Syria, and Madaya on the outskirts of Damascus.
Reports of starvation in Madaya, a mountain town with 40,000 people near the Lebanese border and besieged by regime forces, triggered a global outcry.
The UN says nearly 400,000 of the 4.5 million people living in what it terms "hard-to-reach" areas in Syria are living under siege.
More than 250,000 people are estimated to have been killed in Syria's conflict since it started in 2011.
Peace talks are to be held next week in Geneva, but the US expressed skepticism that the meetings will begin as planned Jan. 25.
"Quite a bit of work" is still needed to make the meeting occur, State Department spokesman John Kirby said.
The United Nations on Monday had yet to issue invitations for the Syria peace talks because key countries have not agreed on who should represent the opposition, a U.N. spokesman said.