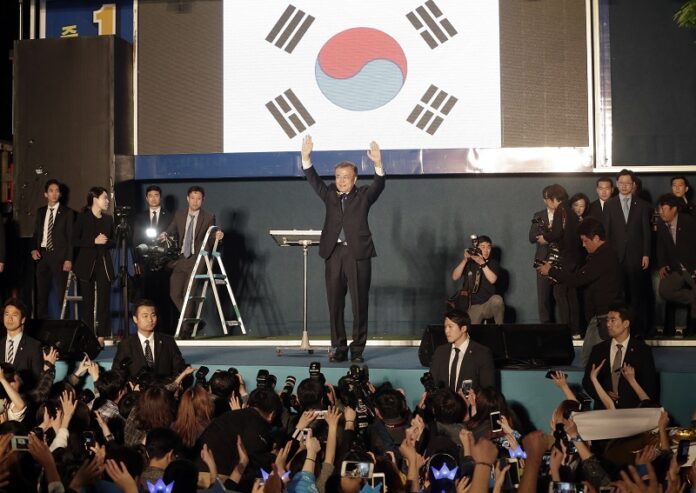 SEOUL, South Korea — Hours after celebrating his election win with thousands of supporters in wet Seoul streets, new South Korean President Moon Jae-in on Wednesday was quickly thrown into the job of leading a nation deeply split over its future and faced with growing threats from North Korea and an uneasy alliance with the United States.
Moon, whose victory capped one of the most turbulent political stretches in the nation's recent history and set up its first liberal rule in a decade, assumed presidential duties after the National Election Commission officially declared him as winner. He will be formally sworn in at noon, forgoing the usual two-month transition because he was chosen in a special election after the last elected office-holder was removed by a court and jailed on corruption charges.
After taking the oath of office at the National Assembly at noon, he is also expected to nominate a prime minister, the country's No. 2 job that requires approval from lawmakers, and name his presidential chief of staff during the day.
Taking up his role as the new commander in chief, Moon received a call from Army Gen. Lee Sun-jin, chairman of South Korea's Joint Chiefs of Staff, who briefed him on the military's preparedness against North Korea.
A short time later, Moon stepped out of his private home and received an emotional send-off from hundreds of residents, who shook his hand, hanged flowers on his neck and asked him to pose with his children. He then left with his wife, Kim Jeong-sook, for a national cemetery in Seoul.
After bowing to honor the former presidents, independence fighters and war heroes at the cemetery, Moon wrote "A country worth being proud off; a strong and reliable president!" in a visitor book. He then visited the offices of opposition parties, seeking support in governing the country split along ideological lines and regional loyalties. His Democratic Party has only 120 seats in the 300-seat National Assembly, so he may need broader support while pushing his key policies.
"I had a telephone call with Liberty Korea Party candidate Hong Joon-pyo. I again offer him words of comfort," Moon said during his visit to the conservative party, whose candidate Hong placed second. "I think I can work well with the Liberty Korea Party on the areas of the United States-South Korea alliance and on national security issues. … I promise to share important information about national security with opposition parties and will ask for cooperation on such issues."
Chinese leader Xi Jinping congratulated Moon on his election win, according to state media reports that provided no further details.
Relations with China have sunk to one of their lowest points since the two countries established diplomatic relations in 1992. Beijing objects to the U.S. missile-defense system THAAD recently deployed in South Korea because it fears the system's radar could be used to monitor the Chinese military's flights and missile launches. Moon made a campaign vow to reconsider the THAAD deployment.
Other foreign policy areas under Moon may depart sharply from recent conservative governments. He favors closer ties with North Korea, saying hard-line approaches failed to prevent the North's development of nuclear-armed missiles and only reduced South Korea's voice in international efforts to counter North Korea.
This softer approach might put him at odds with South Korea's biggest ally, the United States. The Trump administration has swung between threats and praise for North Korea's leader.
Moon was declared president after the election commission finished counting the votes, saying Moon gathered 41 percent, comfortably edging conservative Hong Joon-pyo and centrist Ahn Cheol-soo, who gathered 24 percent and 21 percent, respectively.
"The National Election Commission, based on the first clause of Article 187 of the Public Official Election Law, determines that the Democratic Party's Moon Jae-in, who gathered the largest number of valid votes, was elected as president," NEC Chairman Kim Yong-deok said in the televised meeting.
The son of refugees who fled North Korea during the Korean War, Moon will lead a nation shaken by the scandal that felled Park Geun-hye, whose criminal trial is scheduled to start later this month.
Taking office without the usual two-month transition, Moon initially will have to depend on Park's Cabinet ministers and aides, but he was expected to move quickly to replace them. He will serve the typical single five-year term rather than the remainder of Park's term which was to end in 2018.
After exit polls indicated to his victory Tuesday night, Moon smiled and waved his hands above his head as supporters chanted his name at Gwanghwamun square in central Seoul, where millions of Koreans had gathered for months starting late last year in the peaceful protests that eventually toppled Park.
"It's a great victory by a great people," Moon told the crowd. "I'll gather all of my energy to build a new nation."
Moon was chief of staff for the last liberal president, the late Roh Moo-hyun, who sought closer ties with North Korea by setting up large-scale aid shipments to the North and by working on now-stalled joint economic projects.
The conservative Hong had pitched himself as a "strongman," described the election as a war between ideologies and questioned Moon's patriotism.
Park's trial on bribery, extortion and other corruption charges could send her to jail for life if she is convicted. Dozens of high-profile figures, including Park's longtime confidante, Choi Soon-sil, and Samsung's de facto leader, Lee Jae-yong, have been indicted along with Park.
Moon frequently appeared at anti-Park rallies and the corruption scandal boosted his push to re-establish liberal rule. He called for reforms to reduce social inequalities, excessive presidential power and corrupt ties between politicians and business leaders. Many of those legacies dated to the dictatorship of Park's father, Park Chung-hee, whose 18-year rule was marked by both rapid economic rise and severe civil rights abuse.
As a former pro-democracy student activist, Moon was jailed for months in the 1970s while protesting against the senior Park.
Many analysts say Moon likely won't pursue drastic rapprochement policies because North Korea's nuclear program has progressed significantly since he was in the Roh government a decade ago.
A big challenge will be U.S. President Donald Trump, who has proven himself unconventional in his approach to North Korea, swinging between intense pressure and threats and offers to talk.
"South Koreans are more concerned that Trump, rather than North Korean leader Kim Jong Un, will make a rash military move, because of his outrageous tweets, threats of force and unpredictability," Duyeon Kim, a visiting fellow at the Korean Peninsula Future Forum in Seoul, wrote recently in Foreign Affairs magazine.
"It is crucial that Trump and the next South Korean president strike up instant, positive chemistry in their first meeting to help work through any bilateral differences and together deal with the North Korean challenge," she said.
Story: Hyung-Jin Kim, Tong-Hyung Kim