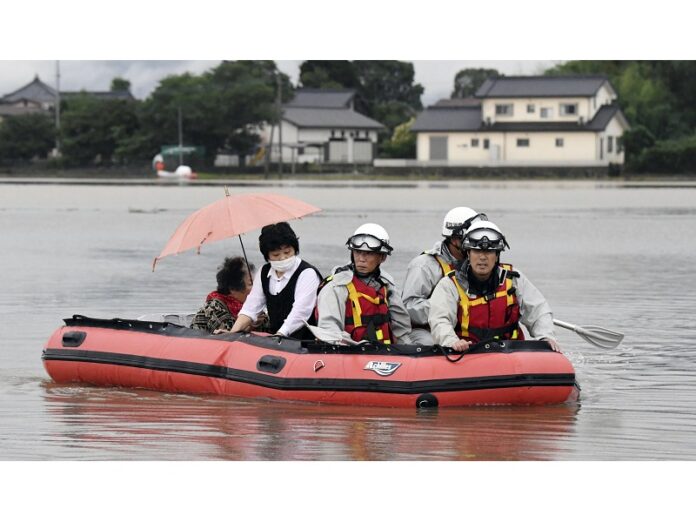 TOKYO — Troops were working Thursday to rescue families left stranded by flooding in southern Japan. Two people were reported dead and 11 others were unaccounted for in flooding that wrecked homes, roads and rice terraces.
Heavy rain warnings were in effect for much of the southern island of Kyushu after Typhoon Nanmadol swept across Japan earlier in the week.
Authorities in Fukuoka, on the southern island of Kyushu said four people suffered slight injuries. The national broadcaster NHK reported one man had died in neighboring Oita prefecture, but details were not immediately available.
The other man, a 93-year-old, was likely swept away by flooding, police said. His body was found Wednesday washed up in Asakita in Hiroshima prefecture, which is on the main island of Honshu.
One man managed a narrow escape when a landslide crushed his home on a steep mountain slope, NHK reported.
Television footage showed rice fields and homes flooded after a river swollen by the rains overflowed its banks, dragging vehicles into the riverbed and destroying dozens of buildings as well as roads and bridges. Soldiers could be seen gingerly walking through flood waters, carrying an elderly man to safety, and evacuating families using inflatable boats.
Rivers also flooded in nearby Oita, Ryutaro Fukui, a crisis management official in the city of Hita, told public broadcaster NHK.
Japan's Meteorological Agency said Fukuoka and Oita were experiencing unprecedented amounts of rain.
Tens of thousands of people were instructed to evacuate though only a fraction of those advised to leave actually did, according to the Fukuoda disaster management agency's website. It said 1,800 people had sought refuge in schools and other public facilities in Fukuoka as of early Thursday.