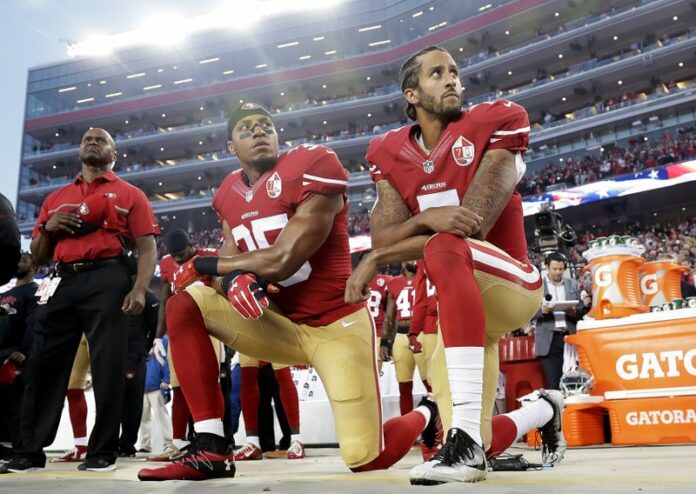 ATLANTA — Stand or stay out of sight.
Looking to quell a national debate that was sparked by Colin Kaepernick, stoked by President Trump and some say chipped away at the very popularity of America's game, NFL owners approved a new policy Wednesday that allows players to protest during the national anthem by staying in the locker room but forbids them from sitting or taking a knee if they're on the field.
Commissioner Roger Goodell called it a compromise aimed at putting the focus back on football after a tumultuous year in which television ratings dipped nearly 10 percent. He said it was unanimously approved by NFL owners, but that was immediately called into question when the head of the San Francisco 49ers – Kaepernick's former team, no less – said he abstained from the vote. The owner of the New York Jets also took a more conciliatory approach, promising not to punish any player who continues to protest against social injustice in full view of fans.
The players' union said it wasn't consulted in the talks and would file a grievance against any change in the collective bargaining agreement. The owners seemed to address that concern by saying only teams would be fined for violations, not individual players. But the league also cleared the way for teams to set their own workplace policies, raising the specter of an even more convoluted approach to an issue that has dominated conversation away from the field.
The head of the NFL Players Association, DeMaurice Smith , angrily denounced the new policy and called it a blow against America's most basic of rights – freedom of speech. Since the new policy is a change in the terms and conditions of employment that was not collectively bargained, any attempts to fine individual players would surely be opposed by the union.
"Management has chosen to quash the same freedom of speech that protects someone who wants to salute the flag in an effort to prevent someone who does not wish to do so," Smith wrote on Twitter. "I know that not all of the NFL CEO's are for this and I know that true American patriots are not cheering today."
So, what happens to a player who decides to keep kneeling during "The Star-Spangled Banner?" Considering Kaepernick is heading into his second year without a job and a former teammate and fellow protester, Eric Reid, is also out of work, it seemed to clear to at least one player what message the NFL was trying to send.
"If the team says 'this is what we're doing,' and ownership (does too), you either deal with it or you're probably going to get cut," Pittsburgh Steelers guard Ramon Foster said. "They'll find a way to get you up out of there."
Arizona Cardinals safety Antoine Bethea, who has been in the league for a dozen years, scoffed at Goodell's notion that this was a step toward appeasing all sides.
"If you want to use your right of freedom of speech and take a knee, you're going to get fined," Bethea said. "So it's really not a compromise. But they did give us the option as far as guys wanting to stay in the locker room. It's going to be something guys are going to have to deal with. Either it's going to be a team thing and everybody stays in the locker room or everybody goes out and stands."
49ers CEO Jed York said every owner who voted was in agreement with the new policy, but he abstained because he wasn't comfortable with a process that didn't directly involve the players. He wouldn't say if any other owners declined to vote.
"I want to work with my team to make sure everything we do is about promoting the right types of social justice reform and getting to a better America," York said.
Jet owner Christopher Johnson said his team will pay any fines doled out by the league, without passing on punishment to the players.
"I will support our players wherever we land as a team," Johnson said. "Our focus is not on imposing any club rules, fines or restrictions."
Clearly, Goodell and most owners just want to put the divisive issue behind them.
The NFL started requiring players to be on the field for the anthem in 2009 – the year it signed a marketing deal with the military.
"We want people to be respectful of the national anthem. We want people to stand," said Goodell, who dismissed concerns about the lack of union involvement by contending the league met with countless players over the past year.
"We've been very sensitive on making sure that we give players choices," the commissioner added, "but we do believe that moment is an important moment and one that we are going to focus on."
The owners spent more than three hours over two days addressing the contentious issue — which made it all the way to the White House.
Kaepernick, the former 49ers quarterback, began kneeling during the national anthem in 2016, a quiet but powerful protest against police brutality and racial inequities in the justice system that has drawn both praise and scorn.
Other players took up the cause, and the gesture carried on during the 2017 season even after Kaepernick left the 49ers and failed to be picked up by another team.
Trump turned the debate into a campaign issue , saying the NFL should fire any player who takes a knee during "The Star-Spangled Banner." The NFL hasn't gone that far, but Kaepernick and Reid believe they are being singled out as leaders in the movement.
Both have filed collusion grievances against the NFL .
There was no immediate comment from Trump on the new policy, but Vice President Mike Pence called it "a win for the fans, a win for (Trump), and a win for America." Last season, Pence walked out of game at Indianapolis after some players kneeled during the anthem.
"Americans can once again come together around what unites us — our flag, our military, and our National Anthem. Thank you NFL," Pence tweeted, adding the hashtag "ProudToStand."
York said he intended to meet with his players to discuss the change.
"They know I will stand up for them," York said. "I hope we can have a good, respectful conversation: Is it the best policy for us to write a check to the league (for further on-field protests) or can we find a better way to use this money?"
York said other initiatives were in the works, including a suspension of all concessions sales during the national anthem.
"If we want to be sacrosanct, if we want to honor the flag, we've got to make sure we go through a litany of things," he said. "We're not going to force people to stand in their seats, but we're certainly going to make sure we're not profiting during that two or three minutes of time during the game."
Story: Paul Newberry