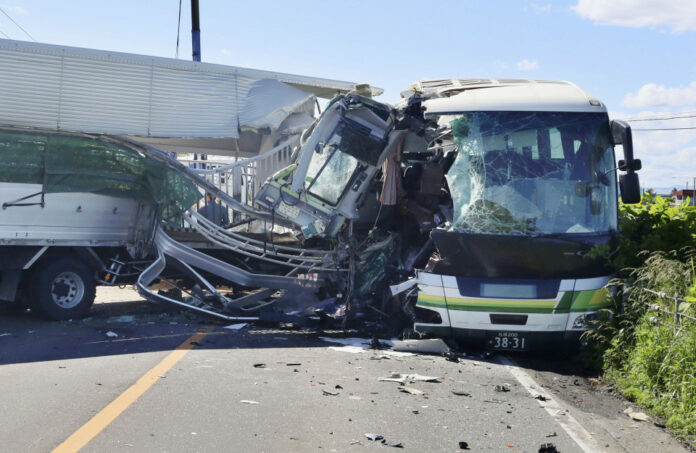 SUPPORO – There were no skid marks at the scene of a fatal collision between a truck and a bus in Japan's northernmost island of Hokkaido, suggesting the truck's driver may not have hit the brakes, police said Tuesday, as they investigate whether the goods vehicle was the cause of the crash.
The police are investigating the truck's owner, pig farming company Nippon Clean Farm Ltd., on suspicion of negligence over the accident, which killed the drivers of both vehicles and three bus passengers.
They searched an office in Hokkaido used by the Aomori Prefecture-based company on Monday, seizing documents related to working conditions.
The collision is believed to have occurred after the 4-ton truck strayed into oncoming traffic, hitting the bus head-on at a light bend on a two-way road in Yakumo, southern Hokkaido, around noon on Sunday.
The police on Monday checked the conditions on the road and found that there were no skid marks at the scene of the accident, suggesting that the truck driver did not attempt to stop the vehicle, or was unable to, and hit the bus at speed.
According to Nippon Clean Farm, the 65-year-old truck driver Makoto Kajiya was an experienced delivery driver with a clean record, who had stayed with the company past its retirement age of 60.
He began work at around 6:30 a.m. on the day of the accident and vehicle checkups were also carried out. Records of Kajiya's work over the last three months did not show he was overworked, and the company was not aware of any health issues Kajiya had, President Hiroaki Yoshihara told reporters on Monday.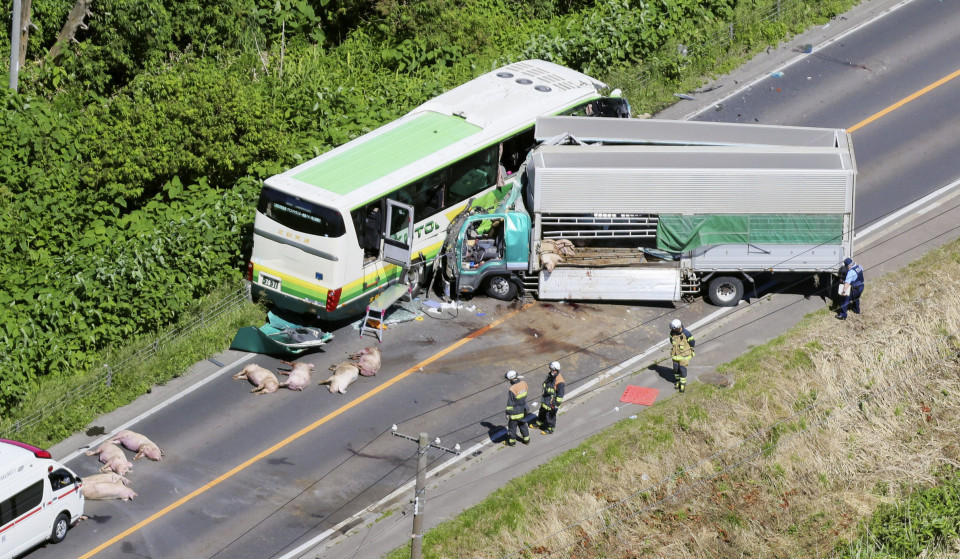 Acknowledging that the dashcam footage showed the truck crossing the road's centerline before hitting the bus, Yoshihara also apologized for the accident.
The three passengers who died were all believed to have been sitting in the front area of the bus, which was smashed in the collision. The bus operated by Hokuto Kotsu Inc. was heading from the prefectural capital Sapporo to Hakodate and was carrying 15 passengers at the time of the accident.
The scene of the accident, Route 5, is where the local government had warned of risks of head-on collisions and other fatal accidents. Its website has also cautioned drivers to be careful about dozing off on the road, as Route 5 continues in a straight line for long periods.