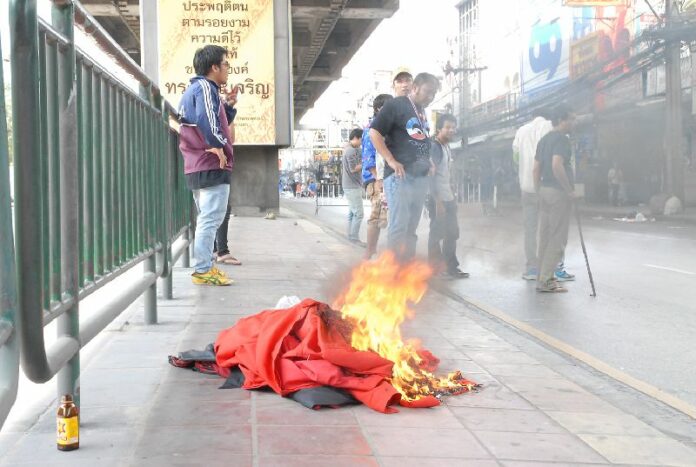 (13 December) The police have denied the claim of an anti-government protest leader that a gunman who shot dead one of its supporters during the clashes in Bangkok has been arrested.
One anti-government protester and three pro-government Redshirts were killed in the violence that erupted in Ramkhamhaeng district of Bangkok on night of 30 November and early hours of 1 December.
Although Redshirts protesters are among the dead, the anti-government movements led by Mr. Suthep Thaugsuban have accused the police of deliberately letting the shadowy militants into the district to attack their supporters.
Mr. Satit Wongnongtoey, a former Democrat MP who is co-leading the protests, went as far as telling the protesters gathering at Ratchadamnoen Avenue that the police have already detained the mysterious gunman who killed the anti-government protester at Ramkhamhaeng.
He also claimed the arrested gunman is related to the Redshirts movement, and accused the police of acting suspiciously by keeping the arrest secret. Mr. Satit then demanded the police to clarify the matter to the public.
But Pol.Col. Chayanond Meesati, deputy commander of the Bangkok Metropolitan Police, said in a press conference that the police have not arrested the gunman as claimed by Mr. Satit.
However, he said, the police did arrest an anti-government volunteer guard last night on the charge of embezzling. According to Pol.Col. Chayanond, the suspect, named as Mr. Kachakorn Lachai, 25, is wanted by an arrest warrant signed by Dusit Circuit Court in 2012.
The suspect was arrested in Soi Charansanitwong 35, the officer added.
Pol.Col. Chayanond said the suspect confessed that he had been working as a motorcycle taxi since the arrest warrant was issued. When the political rallies in Ratchadamnoen Avenue began last month, Mr. Kachakorn reportedly joined the protesters? volunteer guards, patrolling the protest site in exchange with a payment of 500 baht per day, until he was eventually arrested by the police.
"Mr. Satit might have misunderstood the news about the arrest," Pol.Col. Chayanond said.
He added that only two suspects related to the violence in Ramkhamhaeng district have been arrested so far: a 29 year old man and a 15 year old man who allegedly stole passengers? belongings which had been left behind in a public bus.
The bus was later torched, but the suspects insisted they were not responsible for the arson, Pol.Col. Chayanond said.
For comments, or corrections to this article please contact: [email protected]
You can also find Khaosod English on Twitter and Facebook
http://twitter.com/KhaosodEnglish
http://www.facebook.com/KhaosodEnglish