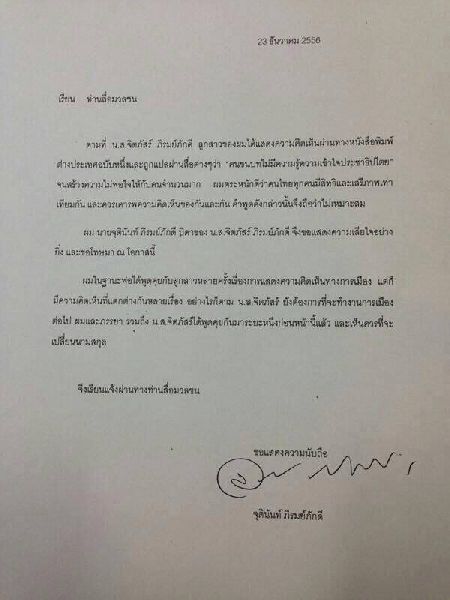 (23 December) The outspoken anti-government activist known for her familial ties to Singha Beer producers will reportedly change her surname to avoid further association with her family business.
In a letter sent to the press, Mr. Chutinant Bhirombhakdi said he regretted the remarks of his daughter, Ms. Chitpas Bhirombhakdi, who told a number of foreign media that she distrusts electoral politics because rural voters are uneducated about democracy.
"I am well aware that every Thai deserves equal rights and liberty," Mr. Chutinant said in the letter obtained by Khaosod, "[My daughter′s] remarks are inappropriate. Therefore, I, Mr. Chutinant Bhirombhakdi, father of Ms. Chitpas Bhirombhakdi, would like to express my sincere regret and apology".
He added that he has discussed with Ms. Chitpas about her political activities many times, but "different opinions remain".
"I and my wife, and Ms. Chitpas, have talked about this for a while now," and they agree that surname change would be the best solution, the letter concluded.
The letter was issued at a time when Boon Rawd Brewery, the producer of the renowned Singha Beer and family business of the Bhirombhakdis, risked becoming a target of boycott by many Redshirt supporters who view Ms. Chitpas' infamous remarks and her campaign to unseat Prime Minister Yingluck Shinawatra as anti-democratic.
Beer Singha relies heavily on sales in the upcountry and rural provinces – the traditional base of support for the Redshirts.
Mr. Santi Bhirombhakdi, the patriarch of the Bhirombhakdis and executive director of Boon Rawd Brewery, has previously sent a letter to Mr. Chutinant, warning him that as a board member he will be held responsible for damages caused to the company by his daughter′s political actions.
In the letter, which was leaked to the media, Mr. Santi also expressed his anger that Ms. Chitpas had inevitably led the public to associate his company with the deeply polarising politics.
One high-ranking manager of the brewery told Khaosod that the letter penned by Mr. Santi was meant as a way to "teach" his family members and settle the dispute inside the family.
"Mr. Santi has never forbidden any political ideas. In fact, he gave his family full rights to express their beliefs because it is personal rights," said the source, who spoke on condition of anonymity, "But they are not allowed to get the company involved".
Ms. Chitpas appeared to be undaunted by the controversy, however. On her Facebook account, Ms. Chitpas wrote that she will continue to fight for "the nation, the religion, and monarchy".
"Don'
t be afraid to fight for the right cause," Ms. Chitpas said.
For comments, or corrections to this article please contact: [email protected]
You can also find Khaosod English on Twitter and Facebook
http://twitter.com/KhaosodEnglish
http://www.facebook.com/KhaosodEnglish