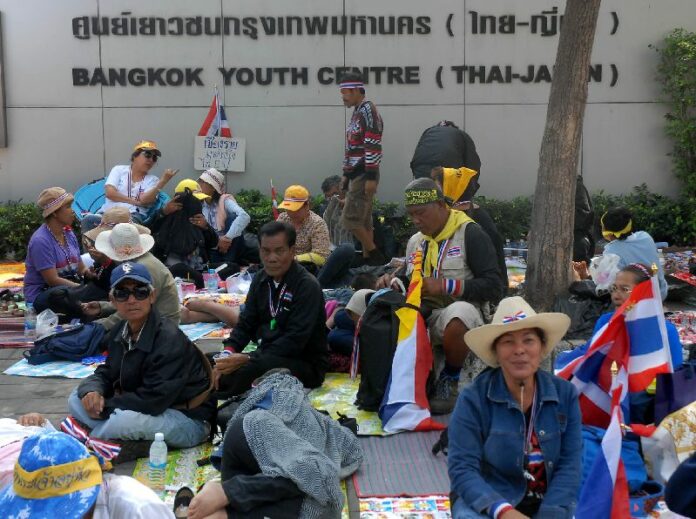 (23 December) Pheu Thai Party has placed Prime Minister Yingluck Shinawatra as the prime candidate for their party list for the next general election.
Ms. Yingluck, who is currently serving as caretaker Prime Minister, has previously refused to confirm to the press whether she will run for Pheu Thai Party as she did in the 2011 election.
Anti-government protesters, led by People's Committee for Absolute Democracy With the King As Head of State (PCAD), have rejected Ms. Yingluck call for the new poll, scheduled to be held on 2 February 2014. PCAD leaders have demanded that an unelected 'People's Assembly' be established to "reform" Thai politics before any election is allowed to take place.
The call to boycott the 2014 election had been endorsed by the Democrat Party.
PCAD protesters have also been besieging the Thai-Japan Stadium in Bangkok, the designated venue for election registration, in order to prevent political parties from filing their application.
Some protesters also set up checkpoints around the venue and searched media vehicles.
Nevertheless, representatives of many parties, including Pheu Thai Party, and members of the press managed to slip inside the Stadium at around 03.00 when many protesters were sleeping. In a surreal scene, many candidates had to tread over the protesters' bodies to enter the venue.
Pheu Thai Party, represented by Mr. Taweesak Anakphan and Mr. Ekthanat Intrrod, reportedly entered the building even before 03.00 and had successfully submitted their candidates' information.
Top officials of Pheu Thai Party, such as Mr. Jarupong Ruangsuwan, the chairman of the party, Mr. Prompong Nopparit, Mr. Poomtham Vechyachai, and Mr. Sompong Amornwiwat were monitoring the situation near the registration venue.
They eventually decided to assign their representatives to process the application instead of entering the venue themselves after they learned about the difficulty in accessing the building.
Pheu Thai Party List is arranged as followed:
1. Ms. Yingluck Shinawatra
2. Mr. Somchai Wongsawat
3. Mr. Jarupong Ruangsuwan
4. Mr. Surapong Tovichakchaikul
5. Mr. Chaikasem Nitisiri
6. Mr. Chalerm Yubamrung
7. Mr. Sanoah Tianthong
8. Mr. Pracha Promnok
9. Mr. Phongthep Thepkanjana
10. Mr. Plodprasop Suraswadi
11. Mr. Phokin Phalakul
12. Mr. Sompong Amornvivat
Further list of Pheu Thai Party's candidates is not immediately available.
Other smaller political parties also filed their application for the election, such as Bhumjaithai Party, Chart Samakkee Party, Rak Thailand Party, Thai Maha Pattana Party, and Democratic Party (not to be confused with the Democrat Party, the main opposition party which boycotts the election).
Additionally, representatives of some political parties later filed complaints at Dindaeng Police Station that the protesters attempted to prevent them from entering the Thai-Japanese Stadium; obstructing or disrupting the election process is criminalised under the Thai laws.
For comments, or corrections to this article please contact: [email protected]
You can also find Khaosod English on Twitter and Facebook
http://twitter.com/KhaosodEnglish
http://www.facebook.com/KhaosodEnglish