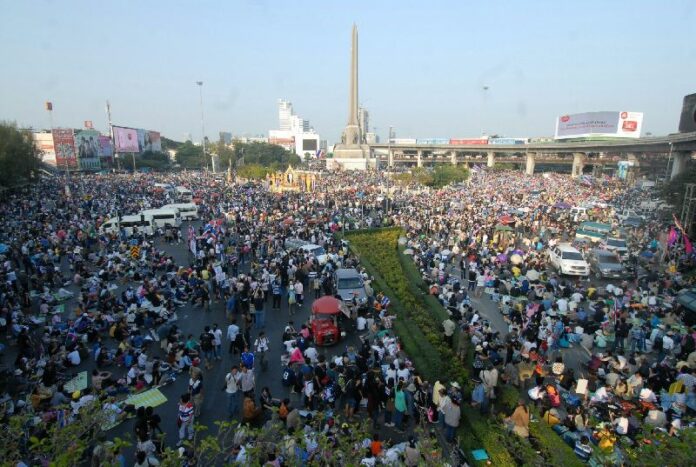 (24 December) Spokesman of the anti-government protests has insisted that at least six million demonstrators were present at the rally in Bangkok on 22 December.
Mr. Ekkanat Prompan, spokesman of the People′s Committee for Absolute Democracy With the King As Head of State (PCAD), said in a press conference yesterday that the state authorities such as the Royal Thai Police and the National Security Council continued to "distort" the number of "the Great Mass of the People".
According to the police, a total of approximately 120,000 people were at the rallies, which took place at many key districts of Bangkok such as Victory Monument, Siam, Asoke Intersection, and Ratchadamnoen Avenue.
The protesters were demanding the formation of an unelected ?People′s Assembly? to rule the country and bring out their desired "reforms".
Many foreign media agencies also place the number of 22 December demonstrators as "tens of thousands".
But Mr. Ekkanat told reporters that the PCAD has consulted Mr. Kwansuang Atibhodi, an expert in city planning and brother of a prominent anti-government critic, and reached the conclusion that 4.8 million people were present at the main stage on Ratchadamnoen Avenue, while another 1.2 million people were scattered throughout other rallies in Bangkok.
PCAD has previously claimed that millions of people attended their rallies in the past, and its supporters have criticised or even physically
assaulted
reporters who placed the number less than their projection.
According to official statistics, the total registered population of Bangkok stands at 6-8 million people.
For comments, or corrections to this article please contact: [email protected]
You can also find Khaosod English on Twitter and Facebook
http://twitter.com/KhaosodEnglish
http://www.facebook.com/KhaosodEnglish