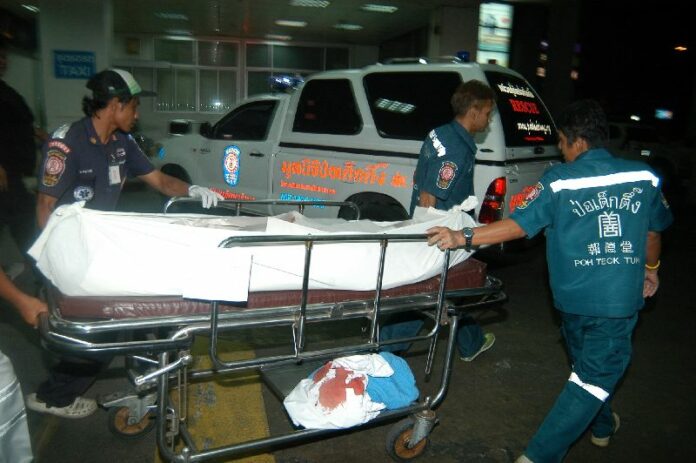 BANGKOK — At least three people were killed and 24 injured in a combined grenade and gunfire attack on an anti-government protest rally site in Bangkok early this morning.
Witnesses said the attack took place at around 2:50 a.m. near the Democracy Monument on Ratchadamnoen Avenue, where hundreds of supporters of the People's Committee for Absolute Democracy With the King As Head of State (PCAD) have been camping in their bid to oust the government of acting Prime Minister Niwatthamrong Boonsongphaisarn.
According witnesses, two loud explosions were heard near the monument, followed by sporadic bursts of gunfire lasting for "many minutes."
When the attack subsided, two people were found dead, and the wounded were promptly sent to hospital. The deceased victims were identified as Narayos Chanpetch, 21, and Somkuan Nuankanai, 51.
A third victim died from injuries at the hospital this morning, reports say.
The names of the injured have not been released, but police reports indicate that at least two women were among the wounded. The injuries appear to have been caused by firearm bullets and shrapnel from explosives, police say.
A police bomb squad later entered the area at around 6:00 a.m. to collect evidence of the attack, which took place metres away from tourist hot spot and backpacker haven Khaosan Road. One hotel on Ratchadamnoen Avenue was also reportedly damaged by the blast.
Pol.Cpt. Lertchai Puelongchai said police suspect that the perpetrators were armed with M79 grenade launchers and possibly M16 rifles. The suspects most likely arrived in several vehicles and launched their attack from Kok Wua Intersection before fleeing.
Several PCAD guards reported that they saw several vehicles make repeated turns around the protest site prior to the attack.
Shadowy militants have harassed PCAD protest sites at night several times over the past few months, resulting in a number of injuries and fatalities. The incident on Ratchadamnoen Avenue this morning is the deadliest since the grenade and gunfire attack on a PCAD rally in Trat province on 22 February, which killed one five-year-old girl and injured around 40 demonstrators.
The police have not arrested any suspects in connection with these attacks.
A total of 24 people, mostly civilians, have lost their lives in the sporadic violence that has plagued Thailand since the latest round of political turmoil erupted last November, according to Bangkok Metropolitan Administration's Erawan Centre.
Although many speculate that hardline members of the pro-government faction are behind the recent escalation of violence against PCAD protesters, a prominent pro-government activist has denied the allegation.
Speaking at a press conference at the pro-government rally on Aksa Avenue in western Bangkok, chairman of the United Front of Democracy Against Dictatorship (UDD) Jatupon Prompan said the UDD is not responsible for the attacks on anti-government demonstrators in any way. He also urged the police to swiftly investigate the incidents.
For comments, or corrections to this article please contact: [email protected]
You can also find Khaosod English on Twitter and Facebook
http://twitter.com/KhaosodEnglish
http://www.facebook.com/KhaosodEnglish