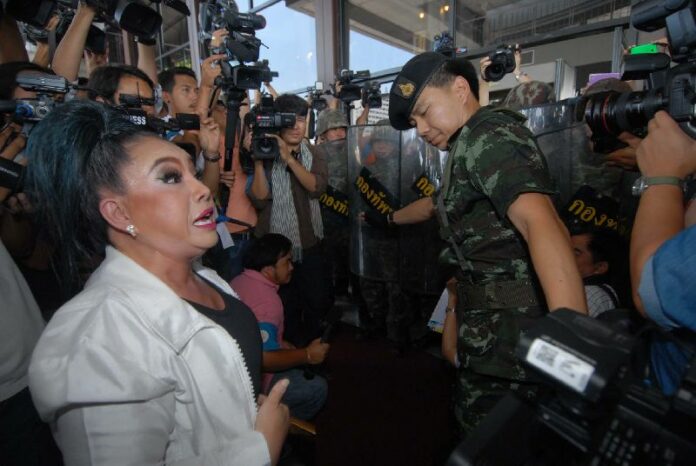 BANGKOK — Two TV stations are challenging the military's orders to shut down their operations while the country remains under martial law.
After assuming a wide range of new powers from its declaration of martial law yesterday, the military excerised its new authority to censor the media by shutting down the operations of 14 partisan TV stations.
Commander-in-chief of the Royal Thai Army Gen. Prayuth Chan-ocha said the move was necessary to prevent the dissemination of "misleading" information to the public.
But two of the shutdown stations, including Voice TV, which is partially owned by the son of former Prime Minister Thaksin Shinawatra, have decided to fight back.
Today, director of Voice TV Payungsak Chanduay filed an appeal with a commander of the army's public relations department at the Army Club on Viphavadee Road.
Mr. Payungsak argued that the shutdown of Voice TV was not justified because the channel's reporting of Thailand's political crisis has been impartial, peaceful, and honest.
Mr. Payungsak also said that the military order taking Voice TV off the air described the channel as a "satellite TV," while it is actually a digital TV channel under the direct control of the National Broadcasting and Telecommunication Commission (NBTC).
"We have complied with the NBTC's regulations 100%. Otherwise the NBTC would have complained to us," Mr. Payungsak said. "Soldiers entered our station at 3 am. They were monitoring our broadcasts all the time, and we let them do that. We didn't try to conceal anything."
He added, "I want fairness for the station. I want them to be back on air as soon as possible, because we have sponsors. Every minute has an advertisement cost. For each hour that passed, we suffer millions of baht in damage."
The host of another shutdown TV channel also made an appeal at the Army Club today. In a bombastic protest in front of a row of soldiers armed with riot shields, director of HOT TV Leena Changchanchaloudly scolded the shutdown order which, she said, gravely affected her business.
Ms. Leena, a self-appointed legal adviser, former candidate for Bangkok governor election, and seller of cosmetic products, is known to for making controversial statements on her channel.
But today she insisted that her channel only focused on selling her products, and that she has never instigated violence or distorted information.
"I support the martial law, so that there will be peace in the country. I also want to see election soon," Ms. Leena told the crowd of reporters.
Ms. Leena filed her complaint but was not able to submit it to Gen. Prayuth in person as she had requested.
When military personnel asked her to leave the area, Ms. Leena screamed at the officers, "Arrest me then! I will tell the world that you are dictator who violated the Constitution!"
For comments, or corrections to this article please contact: [email protected]
You can also find Khaosod English on Twitter and Facebook
http://twitter.com/KhaosodEnglish
http://www.facebook.com/KhaosodEnglish