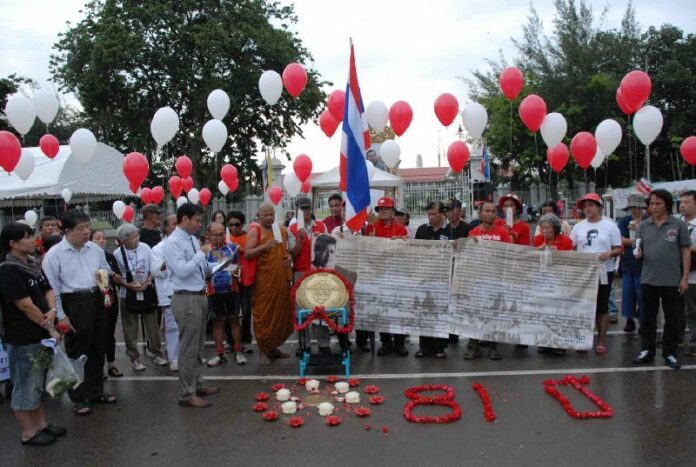 BANGKOK — Thailand's military junta has warned political activists against staging any public events tomorrow to mark the 83rd anniversary of the founding of democracy in Thailand.
A spokesperson for the junta, which banned political demonstrations after seizing power last year, said that security officers will be especially vigilant on 24 June, the anniversary of the 1932 coup d'etat that replaced absolute monarchy in Thailand with a democratic regime.
"As for 24 June, which is the day when Thailand changed governing regimes, there may be some people who come out," Col. Winthai Suvaree said in a press conference yesterday. "I would like to say this: security officers will keep their eyes out in all times."
In recent years, pro-democracy activists have commemorated the 1932 revolution at the Royal Plaza, where the revolutionaries announced the end of Thailand's absolute monarchy. At the time of writing, no activist networks have publicly announced plans to celebrate the revolution tomorrow.
Gen. Chatchalerm Chalermsuk, a secretary of the junta, also confirmed yesterday that any attempt to organize a protest marking the revolution will be considered a violation of the junta's ban on political activities.
"Any activity with political connotation certainly cannot be done, because it is against the laws," Gen. Chatchalerm said. "Any activists who organize political events on 24 June will be summoned for discussion."
He added, "Allow me to repeat that students should not stage any symbolic protests. It cannot be done."
Most of the activists who have violated the junta's ban on protests over the past year have been promptly arrested and taken to police stations and army bases for "attitude adjustment." Some have been released without charges, while others have been prosecuted in martial court, including 16 university students who commemorated the first anniversary of the coup last month in Bangkok and Khon Kaen province.
Speaking at the press conference yesterday, Gen. Chatchalerm also urged the foreign press to recognize the state-sanctioned forums organized by the junta, known formally as the National Council for Peace and Order (NCPO), which he said activists are "welcome" to attend.
"I'd like to tell foreign journalists who like to say that the NCPO doesn't open any space for freely expressing opinions: in reality it is not like that. We do open a space for them," he said.
The 1932 revolution was engineered by a group of Western-educated scholars and military officers who felt that absolute monarchy was an outdated form of government for Thailand, then known as Siam. On 24 June 1932, the plotters staged a coup against the royal government, replacing the king's direct rule with a constitutional monarchy and parliamentary democracy.
However, the revolution failed to turn Thailand into a full-fledged democratic country as hoped for by some of the revolutionaries. Throughout the following 83 years, Thailand has seen 12 successful military coups and 19 constitutions, with the government alternating between quasi-democratic regimes and military dictatorships.
The current junta promised that a new election will be held in September 2016 at the earliest.