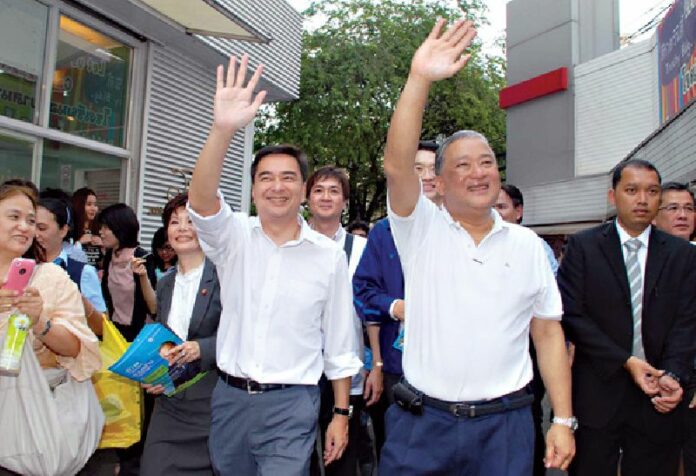 BANGKOK — Top leaders in the Democrat Party denied rumors the party is pushing to kick out Bangkok Gov. Sukhumbhand Paribatra.
Democrat Party leader Abhisit Vejjajiva and other party members quickly denied anonymously sourced rumors seeded in the media that party leadership voted by straw poll to expel the two-term provincial governor for breaking ranks with the party on matters of policy, though such a move would not have affected the year remaining on his term.
Abhisit yesterday denied news reports about the decision, saying the issue couldn't have been discussed by the party's board due to the military government's ban on political gatherings.
A chorus of denials also came from other party leadership, including deputy party leaders Ongart Klampaiboon and Kalaya Sophonpanich, and party secretary Juti Krailerk.
Kalaya did acknowledge the party recently has held two discussion with top city hall officials, but said they involved work processes.
Sukhumbhand dismissed the reports himself Tuesday in comments to reporters at the Children's Discovery Museum in Bangkok.
"I don't know where you got this news from," the governor was quoted saying by Dailynews. "Don't make a mess from a story made up by a few people. It's up to you to believe it or not. You are actually always making up the news."
The anonymous source, said to be from the party, alleged Tuesday that the Democrat Party was unhappy with the Bangkok Metropolitan Administration's management under Sukhumbhand's leadership. It claimed the final straw came when the governor canceled a personal meeting with Abhisit on Nov. 6 at the last minute.
First elected governor in 2009, Sukhumbhand was re-elected by a wide margin to a second term in 2013. Since then he's seen frequent public criticism, most often for the municipal response to seasonal flooding and security issues.
In March 2014, Sukhumbhand was suspended from the job for six months after the Election Commission ruled he violated campaign law by going too far in criticizing his 2013 rival.