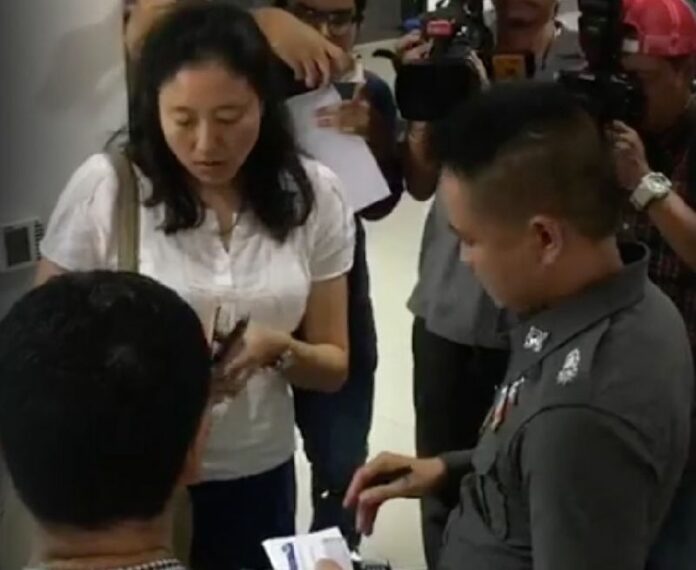 By Pravit Rojanaphruk
Senior Staff Writer
BANGKOK — A university lecturer nearly arrested yesterday for distributing pamphlets listing reasons to oppose the draft charter insists she did nothing illegal.
Benchalat Chua, 40, a Mahidol University lecturer, said today she did not violate the new article which forbids inciting people to oppose or endorse the proposed constitution as claimed by a junta spokesman one day after police told her to leave the campus of Chulalongkorn University and report to a police station.
Col. Winthai Suvaree on Tuesday said Benchalat, a 40-year-old peace studies instructor, violated Article 61 of the referendum law. She flatly denied the allegation, adding that the public is very confused about the new law, violation of which is punishable by up to 10 years in prison.
"The present state is such that we don't know what's permissible or not. It's blurry," she said. "I don't think I did anything wrong because Article 61 forbids people from inciting others [to vote one way or the other]. I still don't know if they will prosecute me or not. I'm waiting."
Benchalat said she was merely distributing pamphlets printed by the New Democracy Movement detailing seven reasons for rejecting the charter draft after a meeting at Chulalongkorn's Faculty of Political Science ended at 4pm on Monday.
The law went into effect on Monday and concerns the run-up to the Aug. 7 public vote on the charter prepared and promoted under military supervision.
A uniformed police officer approached her and told her to go with him to a police station. At that point Benchalat called an attorney from Thai Lawyers for Human Rights, who she then passed to a plainclothes military officer who had approached the scene.
That lawyer, Pawinee Chumsri, told the military officer that if Benchalat had done nothing wrong, she was not required to report to the police station. In front of a crowd of journalists, the officers chose not to take Benchalat away.
"They asked for my mobile phone number and asked me to produce my ID card to ensure that my identity matched the person on the card," she said.
Reached for comment Tuesday, Pawinee said the military has no authority to go after people for possibly violating the law, as that falls under the purview of the Election Commission.
Benchalat argues that the vagueness of the new referendum law offers no clear criteria as to what can and cannot be done, and its prohibition on spreading false information about the charter draft holds too many subjective interpretations.
Related stories:
Regional Monitors In, International Monitors Out for Charter Vote
Redshirts Alarmed by Vague Restrictions on Charter Campaigns
Junta to Detain Critical Politicians 7 Days at Military Sites for Reeducation
Activists Expect Increased Use of Detention Before Charter Vote