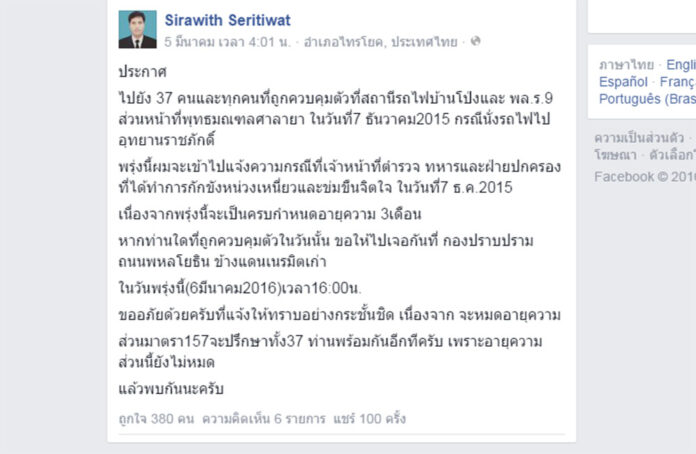 BANGKOK — Pro-democracy activist Sirawith Seritiwat, aka Ja New, is calling on Facebook to help him recover his account lost about a month ago.
A month after authorities seized his computers from his home, Sirawith suspects they were able to access his account and has publicly called on Facebook to take action because he has had no success in getting any response from the California-based social media giant that maintains a hidden presence in Bangkok.
"I have been trying over a month but still can't access my old Facebook account," said Sirawith, who said he's exhausted normal channels to seek help.
In September, Facebook opened a Bangkok office at an undisclosed location and prefers to handle requests through its international PR firm, Hill & Knowlton. A Hill & Knowlton publicist said Thursday she would have to seek a reply from Facebook.
Meanwhile Sirawith is threatening to issue a public letter in hope Facebook does something to help.
"I may need to issue a public letter in order to verify my identity and seek explanations from Facebook Thailand in order to rectify this error," he wrote in a message.
Hill & Knowlton's Kanokwan Akkawaranukul confirmed that Facebook Thailand does exist in a undisclosed location and people wanting to contact Facebook Thailand should talk to Hill & Knowlton instead.
Just before noon Thursday, Sirawith said his calls to Kanokwan had gone unanswered.
Sorry, This Content Isn't Available Right Now
There have been several cases of anti-junta activists losing their Facebook accounts in recent months, but Sirawith presents the highest profile case, as he has become one of the most public faces of the pro-democracy movement.
Sirawith believes the junta played a role in something to do with it because it happened after his computers were taken from his resident a month after the National Council for Peace and Order in relations to the lese majeste charge against his mother.
Facebook has been regarded with distrust by activists since authorities said they accused two people of defaming the monarchy based on private messages sent over the service. Through Hill & Knowlton, Facebook denied providing any access to the authorities.
Last month Facebook took the seemingly unprecedented step of censoring a page that satirized the monarchy, making it unviewable from Thailand, where insulting the Royal Family is a criminal offense punishable by up to 15 years in prison.
Update: Sirawith said late Thursday afternoon he will go ahead with a public appeal to Facebook after being told by Hill & Knowlton rep Kanokwan there's nothing the PR firm can do.
Related stories:
Facebook Blocks Thailand From Page Satirizing Monarchy
Facebook Denies Giving User Data to Thai Junta
Facebookers Panic Over Fears Junta 'Hacking' Accounts
Detained Facebookers Allege Chat Evidence Obtained Illegally